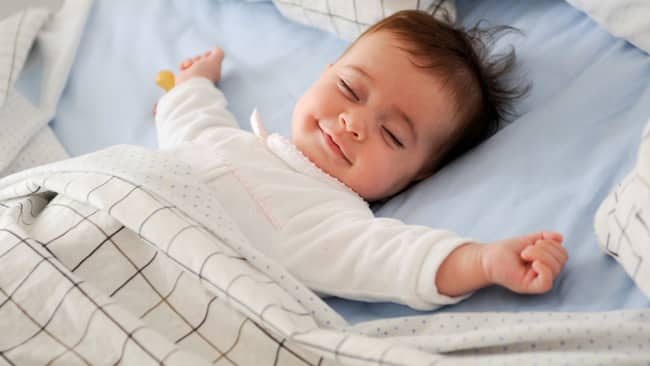 Top 5 Best Essential Gear for Sleeping | 2020 Reviews
Sleeping is a very tricky and challenging aspect that parents face during the first few months – even years – of their baby's life. Regardless of the sleeping method that parents choose for their babies, there are just so many things to think about. We would all want for our little ones to have a safe venue for sleeping to prevent SIDS (sudden infant death syndrome) or even getting squished by the parent if co-sleeping.
Different sleeping arrangements require different types of equipment to make sure that it is able to provide comfort to both baby and parent (especially moms, since they also have to consider breastfeeding arrangements at night).
What exactly are the things you need for a baby – and a parent – to sleep well at night? We have compiled a list of five of our most recommended baby essentials below, which basically falls under the following categories:
sleeping area

– this can be a portable bassinet, crib, rocker or any other form of safe sleeping area

swaddle

– infant nightgowns and onesies for baby are also recommended underneath

baby monitors

– can be both audio and video or audio only

light -

Are you now ready to get the most important items for your sleeping baby? Check out our reviews below!
You may also check out our Best Sleeping Gear Essentials Buying Guide here.​
Quick Comparison Table
| Arm's Reach Co-Sleeper Bedside Bassinet | HALO Baby SleepSack Swaddle | Infant Optics DXR-8 Video Baby Monitor | Safety 1st LED Nightlight | Graco Pack N Play Playard Bassinet |
| --- | --- | --- | --- | --- |
| | | | | |
| | | | | |
| $$$ | $$$ | $$$ | $$$ | $$$ |
| 30.8 pounds | 10.4 ounces | 2 pounds | 8.3 ounces | 22.9 pounds |
| | | | | |
Arm's Reach Co-Sleeper Bedside Bassinet
There is always a huge issue regarding sleeping arrangements with a small baby. Some parents decide to have the baby inside their crib in their own room but some parents also opt to have the baby inside their rooms or even co-sleep with them, for convenience purposes.
Those who want to have a mix of both will certainly love this portable bassinet which turns into a pack and play when your kid grows older. What we love about this product is that we can co-sleep with the baby without actually having them on the bed itself. The baby gets a lot of space inside the bedside bassinet and the parents get all the bed space to themselves!
On the plus side, moms do not have to get up from their beds to constantly check the baby (especially at night) thus reducing the chance of accidentally waking them up. Babies can sleep through the night and moms, too. If you do breastfeed at night, you can simply bring your baby closer to you without having to get up.
The crib mattress that it comes in is nothing more than a thin pad so if you wish to get something thicker, you might be better off getting a separate product. Regardless, the design and convenience that it provides to moms is the biggest reason why we are placing this product at the top of our list of most recommended baby essentials list.
Details of the Arm's Reach Co-Sleeper Bedside Bassinet

Dimensions

33 x 11 x 11 inches

Weight

30.8 pounds

Recommended Age

Newborn to 6 months, for the bassinet;
Up to 2-3 years for entire crib
HALO Baby SleepSack Swaddle
If you are a new parent and have just started doing your 'research', you probably already know that putting blankets, pillows or stuffed toys inside a crib is a big no-no. Why? Because doing so increases the risks of suffocation and sudden infant death syndrome (SIDS).
But, babies can be very fussy especially if they don't feel as secure and warm and tight as they did inside your womb. The solution would be to use a baby sleepsack to make them feel like they are secure.
The HALO SleepSack is a three-way swaddle that you can use with their arms in, hands toward the face (if your baby self-soothes) or one or both of their arms out – whichever arrangement your baby prefers. This product is, in fact, being used by most hospitals around the country which is also helpful in educating parents about safe sleeping.
There are many other things to love about the Halo SleepSack. You don't have to worry about them feeling cold as it is made of microfleece so just use them on top of their baby nightgowns. The zipper system is also designed from the bottom so you can do diaper changes with ease. Of course, we would always encourage parents to look at their baby's sleeping habits to see if they are ready to sleep without the wings (swaddle wrap).
We love the SleepSacks on newborns but felt like the newer products used slightly inferior materials compared to the old ones. This small detail is the reason why we're putting this to the second spot on our list.
Details of the HALO Baby SleepSack Swaddle

Dimensions

0.1 x 9.4 x 26 inches

Weight

10.4 ounces

Recommended Age

Newborn (6-12lbs), Small (13-18lbs);
Up to 5T for SleepSack Big Kids
Infant Optics DXR-8 Video Baby Monitor
For many years, the best baby monitor that parents relied on is the audio type that allowed them to hear if their baby is crying or babbling about something.
However, as technology becomes more and more advanced, so have baby monitors. Parents now prefer the ones that come with a video mode – and we here at ParentsNeed HQ love them, too! Among our top favorite is the one by Infant Optics, which is the first ever monitor that comes an interchangeable optical lens capability. It sounds very technical but this feature is actually one that enables you to customize your viewing angle and even zoom in to make sure that you get a clear view of your baby. Yep, we definitely love that we are able to pan, tilt and even zoom in and out remotely!
Another thing to love about this high-tech baby monitor is that it has a really long battery life – up to 10 hours in power-saving mode and 6 hours if you keep the display screen constantly turned on.
If that is not enough to convince you to try this product out, wait 'til we tell you. This baby video monitor comes with an IR night vision so you can still see clearly even when the lights are out. It also comes with an alarm function and a two-way talk so you can try to soothe your baby through the monitor if you are still tied with house chores at the moment.​
Additionally, you can expand your monitoring up to four cameras – there is no need for you to purchase yet another set. And, in case you accidentally lowered the volume of your monitor, it also comes with sound activated LEDs on the display screen to alert you that your baby is crying.
For parents who are slightly averted to technology, you don't have to worry about getting this baby monitor installed because this one is a plug and play device. This means that you only have to plug it and turn it on then it's ready to use! Unfortunately, this baby monitor is a little too expensive for our budget and the monitor does not quite have the level of video quality that you can expect for its price point. Additionally, the power cord is also slightly annoying and awkward to have to deal with.
Details of the Infant Optics DXR-8 Video Baby Monitor

Dimensions

19.3 x 13.4 x 6.5 inches

Weight

2 pounds

Battery Life

10 hours

Display Type

LCD

Screen Display Size

3.5 inches
Safety 1st LED Nightlight
Night lights are a great product to use inside the baby's nursery room for many reasons. For one, the dim light provides a sense of security to the baby so that they are not left in total darkness inside their room. Another reason would be that it provides a bright enough light so parents do not have to turn on the main light during late night feedings and diaper changes. Yes, you will still wake your baby up during these circumstances but at least you won't be hurting their eyes due to too much brightness.
If you are looking for a dim light to work inside a room, this nightlight is for you. It provides just enough light to let you see around the room but without having to keep you awake all night. Plus, it comes with a light sensor so it automatically turns itself on or off depending on how much light (or darkness) its sensors detect. You don't have to worry about plugging it in the entire time because it doesn't run all the time and also consumes very little power.
As far as safety is concerned, there is no doubt that Safety 1st can deliver high quality products that you can use with your children. You do not have to worry about it breaking – it will not break itself into a million pieces unlike regular bulbs. We suggest that you keep it out of reach of children but we love it that it stays cool to touch even though it's been plugged in the entire night. Of course, we highly suggest using LED lights as they last up to 25 times longer compared to standard light bulbs.
While we love most things about the nightlight, the weird three-pronged light turned us off a little. It emits light towards the ceiling which is weird and you might also need at least two or three to light up a bedroom. This product is listed in the fourth position of our most recommended gears for sleeping with kids.
Details of the Safety 1st LED Nightlight

Dimensions

2.4 x 2 x 4 inches

Weight

8.3 ounces

Target Gender

Unisex

Batteries

None
Graco Pack N Play Playard Bassinet
For parents of small kids, a major concern related to sleeping is always about keeping up with the routines during travel. It can become a major issue on how to make sure that the baby continues to sleep inside their own sleeping area – and doing so through the night.
Fortunately, there is the Pack and Play, which is a portable crib turned baby play yard for parents to bring! Now, there are many things to love about this Graco Pack N Play. First and foremost, it is a portable baby bassinet that allows even newborns to sleep in. Whether you use it for napping during the day or sleeping throughout the night, this baby equipment works pretty well.
When it comes to portability, this playard bassinet will not fail you. It has folding feet and wheels that will allow for an even more compact fold so you can stuff it into the car trunk much easily. Of course, it also has its signature Graco push button that makes breaking it down done in mere seconds. It even has a carrying bag so you can carry it anywhere you want to go. You might even want to bring it camping or have it as checked-in baggage during plane trips. Don't worry – it comes with quite a sturdy frame so no matter how much it becomes abused by your kid or during packing, it still stays strong and durable.
The Graco Pack N Play is brought to the fifth position in our list not because we have lots of negative things to say about it (we would have loved for the playard to have lower walls though) but because we only suggest it for parents who are constantly traveling or who have slightly older kids (1 year and up).
Details of the Graco Pack N Play Playard Bassinet

Material

Polyester and polyester foam

Weight

22.9 pounds

Folded Size

27 x 11 x 11

Height Limit

35 inches

Warranty

One year, limited
What does a baby need?
Ultimately, a baby ever only needs their mom's breasts and some clothes to keep them warm to help them survive their first few months. The baby essentials listed here are just some nice must-haves that we suggest you use to make things a little more comfortable for you and your little one, especially come sleeping time.