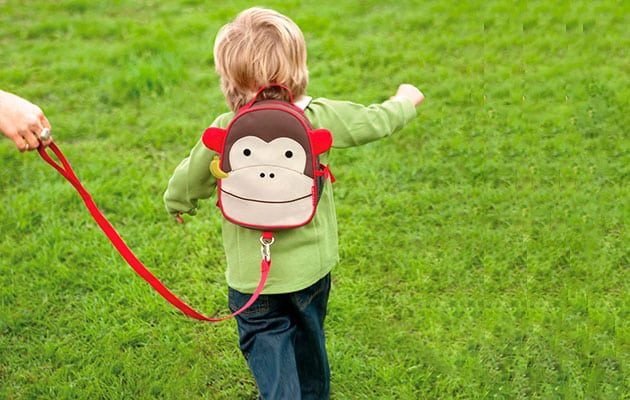 Top 5 Best Children Leash and Toddler Harness | 2019 Reviews
The use of child leashes has become a very controversial subject for many parents and even non-parents. Some parents believe that use these harnesses on children look very much like dogs on leash. They do have a point there but when you have a very rambunctious child, you might just consider using this on them.
Exactly why would any parent want to use this item on their children and make them look like a "dog"? There are many benefits to using harnesses and leashes on little ones. Among these include:
• It keeps them from running away the moment you put them on the ground, especially if they like riding in strollers or baby carriers
• It ensures that they are just within reach especially when you are in a crowded place
• It is great for when you have a handful of children to look after
It can be easy to judge parents using toddler harnesses and leashes on their children but you might think twice if you are in their situation. Remember that each family has different needs and there is nothing wrong with requiring assistance from these tools.
Then again, you might also want to check with your child first to see if they are okay with using these things. You might like it as a parent but your child may hate and refuse using it, no matter how cute it looks.
Should you decide to get one for your kid, below are the best toddler harness reviews we've selected, among them including the best toddler safety harnesses and leashes for kids that you might want to buy. They do not only do their function well but also look great aesthetically.
Quick Comparison Table
| Skip Hop Zoo Safety Harness Backpack | Brica By-My-Side Safety Harness Backpack | Goldbug Animal 2 in 1 Harness | Mommy's Helper Kid Keeper | Blisstime Anti Lost Wrist Link for Toddlers |
| --- | --- | --- | --- | --- |
| | | | | |
| | | | | |
| $$$ | $$$ | $$$ | $$$ | $$$ |
| 11.2 ounces | 7.2 ounces | 8.5 ounces | 4 ounces | 2.4 ounces |
| 9 x 2.5 x 14.5 in | 13.4 x 7.7 x 4.2 in | 5.9 x 4.5 x 12.6 in | 7.5 x 1.8 x 6 in | 6.9 x 4.4 x 1.7 in |
| Bee, Dog, Giraffe, Ladybug, Monkey, Owl, Butterfly | Green/Blue, Pink/Grey | Monkey, Panda, Elephant, Green Frog, Pig, Tan Lion, Giraffe | One design - comes in 1-pack, 2-pack, 3-pack | Blue, Orange |
| | | | | |
Skip Hop Zoo Little Kid and Toddler Safety Harness Backpack
Have you heard of a child backpack with leash? Now you have!
If you have a preschooler, this toddler backpack leash is definitely the perfect item that you can give them. They can use it as their backpack where they can stuff all their personal belongings in and feel like a big kid. Parents are also given security and peace of mind knowing that they are secure with a kids backpack leash so that their kid will not wander off too far when walking around public places.
Clearly, everything about this leash backpacks for toddlers screams cuteness. First of all, we love the design that it comes in. It makes use of various animals such as butterflies, bees and ladybugs. To make the experience even better, you might just want to ask your toddler which particular animal they love the most so they will love using and putting their backpack over their shoulders. The backpack designs are also very colorful so it is very easy to spot your kid from far away (not that they will ever get to wander that far from you).
What else is there to rave about this child leash backpack? It comes with a huge zippered main compartment where your kid can store their favorite stuffed toy or any other important item they would love to bring along with them. There is also a mesh pocket at the side where they can put in their water bottle or juice box for easy access. That will certainly make them feel like a big kid, right? In case your kid uses it at school, you can be sure that the backpack will not get lost as it comes with a write-on tag located inside the bag.
For added security, the backpack comes with adjustable chest straps, turning it into a convenient toddler harness backpack! When you start walking around in crowded areas, you can attach the harness at the bottom of the pack and then wear it as a wrist strap – your kid will have the freedom to move around and you will still have peace of mind knowing that they will never get lost in the process. Of course, this set up makes it a lot easier to remove the tether for when your kid has to use it solely as a backpack, such as when they finally get inside their school.
The biggest drawback to the Skip Hop child harness backpack is its price point, which is probably the most expensive of all items in the list. Nevertheless, you do get what you pay for which is why we are placing this at the top spot in our list.
Details of Skip Hop Zoo Little Kid Safety Harness Backpack

Weight

11.2 ounces

Dimensions

9 x 2.5 x 14.5 inches

Designs

Bee, Dog, Giraffe, Ladybug, Monkey, Owl, Butterfly
Brica By-My-Side Safety Harness Backpack
Toddlers and preschoolers love to do "adult" things and copy what adults do which is why using a safety harness backpack is often a great alternative to just using a regular leash or wrist straps. The answer to keeping an active toddler within reach: the Brica By-My-Side Safety Harness Backpack.
Why do we here at ParentsNeed HQ love this particular child harness backpack? There are actually many reasons why. For starters, we love that it functions very much like a regular toddler backpack so if your kiddo no longer runs around as much as they used to, the backpack function of this item can still be utilized.
If you are very particular about the backpack function, you will certainly love that this one comes with very roomy compartments and pockets. There is enough space to put in all toddler essentials and your little one will certainly enjoy packing their things in their own backpack when you go on a trip. There is also an easy access pocket in front that is made from mesh material. This one can hold small toys as well as a sippy cup, making it the perfect companion for trips to the zoo or the park.
Parents will also love that the toddler harness backpack comes with a reflective fabric, which was placed there for added safety and peace of mind. Although you might lessen, or even avoid, letting your toddler run around at night, it is always a good idea to keep safety precautions in mind because you never know when you might be faced with such a situation.
Most importantly, this toddler harness backpack comes with a detachable shock absorbing tether so you can always keep your toddler within reach no matter where you go. The tether can stretch but also absorb sudden stumbles or pulls so your child stays comfortable even if they decide to stray slightly farther away from you.
This backpack definitely gives your child the chance to move around freely like a big kid and yet ensure some peace of mind to the parent knowing that their kid is still within reach even in the most crowded places. Because of this, we are ranking it at the second spot in our list.
Details of Brica By-My-Side Safety Harness Backpack

Weight

7.2 ounces

Dimensions

13.4 x 7.7 x 4.2 inches

Designs

Green/Blue, Pink/Grey
Goldbug Animal 2 in 1 Harness
If you have a toddler who is crazy about stuffed animals and would rather get a backpack that very much resembles their favorite animal (unlike the design that Skip Hop backpacks use), then why not give this pack from Goldbug a try?
Unlike the other backpacks showcased here, this one is actually a harness disguised as a backpack and not the other way around. It creates a fun and friendly way to keep your child close and safe through a fun harness that looks like a cute stuffed animal. All parents have to do to have some peace of mind during walks in public places is to hold on to the animal's tail and they should be good to go. They might just be able to fool their little kiddo into thinking that they are playing around like an animal so they would agree to place the backpack over their shoulders and allow mom or dad to hold on to them through the harness.
Of course, the child harness backpack can be used as a backpack by removing the detachable tether. Once they are old enough to not be strapped to mom or dad or once the crowd has dispersed enough to be allowed to walk on their own at a farther distance, they can just simply put on the cute backpack that can hold all their essentials such as a favorite toy and some snacks and a water bottle. The compartment inside the child harness backpack is roomy enough to hold all toys and travel supplies that will last them the entire day.
Now, it is important to take note that each backpack design comes with either a zipper or a Velcro. The choice is totally up to you – whichever makes everyone feel convenient. Or you can simply choose based on which animal is your child's favorite.
We really do not have much to say about this child harness backpack except that it comes with a very cute design that your kids will totally love. It comes with a good price point as well. However, we think that the other backpacks in the list look much better which is why we will have to place this at the middle of our list.
Details of Goldbug Animal 2 in 1 Harness

Weight

8.5 ounces

Dimensions

5.9 x 4.5 x 12.6 inches

Designs

Monkey, Black and White Panda, Elephant, Green Frog, Pig, Tan Lion, Tan and White Giraffe
Mommy's Helper Kid Keeper
For parents who are looking for a no-nonsense leash for kids, this kid keeper from Mommy's Helper is your best bet. It does no other function but to keep your kid near you especially during those most important moments – such as when you are walking around a zoo, a park or any other crowded public space.
What do we love about this product? For starters, we like that it does what it is intended to do: to keep kids within reach. We also like that the harness is designed well in that it is able to fully support the torso and not reach the sensitive stomach area. This way, you can be sure that you are not hurting your baby when you are gently tugging them once they start to wander off a little too far.
The Kid Keeper also comes with a double swivel snap design which allows for versatility and flexibility in its use. Not only is this harness useful for when you are walking around busy and crowded streets but you can also use it to secure your baby in places such as their high chairs or in grocery carts and in other types of seats.
For added comfort, this harness for babies comes with padded shoulder straps to ensure that your baby does not feel any strain or discomfort in the shoulder areas. The parents will also stay comfortable as the wrist straps also come padded for comfort. We definitely love that this harness comes with so much versatility and also offers maximum freedom to little ones – it allows up to 42 inches of adjustability in the strap so your child can feel like a big kid while you go walking around public places. It also comes with a swivel design to avoid tangles!
You probably swore that you will never be the kind of parent who will put their kid on a leash but when you have such an active toddler, you might think twice about that decision. The Kid Keeper provides comfort and security for everyone which is why we have added it to the fourth spot in our list.
Details of Mommy's Helper Kid Keeper

Weight

4 ounces

Dimensions

7.5 x 1.8 x 6 inches

Designs

One design - comes in 1-pack, 2-pack, 3-pack
Blisstime Anti Lost Wrist Link for Toddlers
If backpack leashes are something that you absolutely abhor but getting one is a must for your active toddler then you might just consider getting this child wrist link for mom (or dad) and child.
It pretty much feels like a handcuff, only more fun and entertaining. The item itself is made from soft and comfortable material that will not hurt or irritate your child's skin. It has a soft sponge pad around the wrist straps so both adult and child will stay comfortable even while wearing the wrist links. It also comes with a double layer Velcro so that it stays on no matter how rowdy your child can get. Even so, parents are guaranteed that they will not be given a difficult time trying to take the child wrist leash off when needed.
Another reason why we love this item is that it uses durable material. It may look flimsy from afar but these links are actually made of stainless steel wrapped with plastic so if bad elements decide to use a knife and cut off the connection, they cannot do it very easily, if at all. The connecting ropes attach to the wrist straps through metal connectors that are able to rotate 360 degrees.
Why do we highly recommend this product? This one is very easy to use. All you have to do is wear it around the parent's and the child's wrist leash and then you are good to go. The chain can extend up to 1.5 meters so your child can still run around but not too far off beyond your reach. The small toddler wrist straps can also be adjusted very easily up to 14 centimeters.
Should you decide to go to malls, zoos or other busy and crowded places with your toddler or preschooler, you can be guaranteed that they will never get lost no matter how much they try to run around. It is very easy on the budget and you can also keep it inside your child's backpack or your purse before and after use. Because of this, we think that this deserves to be placed at the last spot in our list.
Details of Blisstime Anti Lost Wrist Link for Toddlers

Weight

2.4 ounces

Dimensions

6.9 x 4.4 x 1.7 inches

Designs

Blue, Orange
Not all kids love being strapped in strollers or in baby carriers and they will eventually want to have the freedom to walk and even run around, especially in very crowded places. While it may not look good to some, parents only have the best interest of their children in mind which is why they would rather use child safety harnesses and leashes to ensure the child's safety. Regardless of your stance in this, it is always best that you think of safety first before anything else.
Don't forget that safety should be considered not just outside but also inside the home. If you have a very active kid, or anticipate having one, you might as well consider childproofing your home already, if you haven't. Good luck!