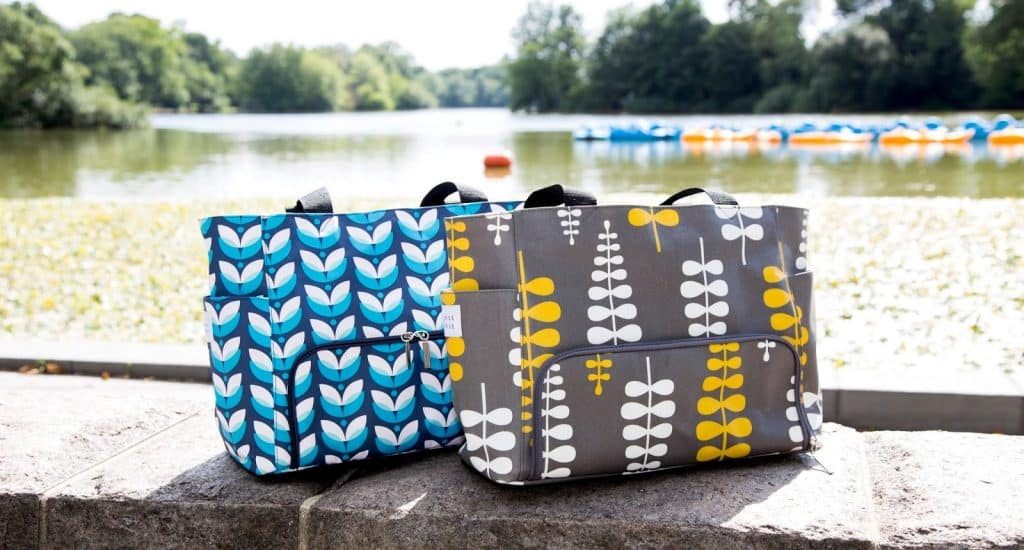 Top 5 Best Breast Pump Bags | 2020 Reviews
When you become a mom, you get introduced to a lot of new products that you never thought you would need. Nursing moms, for example, get themselves familiar with pumping milk. While it makes milk feeding a lot more convenient for everyone, it means that moms will have to lug around a lot of equipment not to mention all the other items that they need to bring to run their errand or to go to work.
Surprisingly, there are a lot of bags that are specifically designed to help moms handle the entire load. Some items in our list are breast pump bags – designed to carry all pumping essentials – while others are diaper bags meant to carry all other baby essentials including a pump and its necessary supplies.
But, how do you choose the best handbag for moms that can also handle such huge responsibility? Moms often look into functionality but others also look into the aesthetics. Yes, just because you are mom does not mean that being fashionable ends with a baby in tow. Aside from the huge storage space, it is also important that the bag is able to function beyond holding pumping supplies. After all, you do not want to look like a haggard mom lugging all your stuff when meeting up with clients or your boss, right?
So, without further ado, let us look into the best breast pump totes available in the market right now. We are quite sure that this selection will still make you look chic and sleek even if it contains pumps and bottles inside.
Quick Comparison Table
| Medela Breast Pump with On the Go Tote | Juno Blu "Esalen" Breast Pump Bag | Sara Wells Annie Breast Pump Bag | Kaylaa Premium Breast Pump Bag | Nurse Purse Breast Pump Bag |
| --- | --- | --- | --- | --- |
| | | | | |
| | | | | |
| $$$ | $$$ | $$$ | $$$ | $$$ |
| 7 pounds | 2.9 pounds | 2 pounds | 2.2 pounds | 1.4 pounds |
| | | | | |
Medela Breast Pump with On the Go Tote
For the committed breast pumping mom who is willing to invest money on a good kit plus a bag, then the Medela On the Go Tote is the best way to go.
What we love most about this tote is that the microfiber bag is specifically designed to hold just about everything you need for pumping milk. It comes with a double pumping kit, which you can remove by unfastening the Velcro straps, milk bottles, breast shields, connectors, valves and tubings. We also love this breast pump bag with cooler which also comes with an ice pack. Basically everything you need to start pumping milk has been included in this kit so you don't need anything else.
This Medela tote bag is designed for moms who constantly pump – and do it multiple times a day. All you have to do is unzip the flap in front and fold it down to act like a tray. Although it is a bigger and bulkier setup compared to other pumping kits available in the market, you do get everything you need and you can immediately place them back inside the bag for storage. You don't have to carry the cooler around if you want a little more space but, even if you have everything placed inside the tote, you can still fit in other essentials such as keys, a phone, wallet and so on.
Another thing we like about this cool pumping tote and kit is that it requires lesser trips for you to the fridge or cooler because you have one with you right inside the bag. It can only accommodate four Medela bottles which we think is good enough for a day's worth of pumping.
Because the tote is specifically designed to hold the pumping kit, it is very portable and easy to use – you can even use it at the back of the car! If you are not a fan of totes, you can also try out their breast pump backpack although it has a much lesser room compared to the tote bag.
For this, we place the tote bag in first position.
Details of the Medela Breast Pump with On the Go Tote

Weight

7 pounds

Dimensions

10 x 5 x 7 inches
Juno Blu "Esalen" Breast Pump Bag
When it comes to style, quality and functionality, the Juno Blu pump bag should be placed high up in the rankings. Although it does come with a much higher price tag than the others in this list, it is still a worthy investment in the long run as you are guaranteed to never replacing your pump bag or diaper bag in the coming months or even years.
Why do we think that this is the best breast pump bag available in the market? The exterior is just the beginning of it all. It definitely looks very sexy and classy and can work well with any situation, whether you are out on a corporate meeting with a client or for a casual walk running on some errands (some designs do look rather formal).
We also like that it discreetly hides all the pumping materials that you need; people would never suspect that you are carrying a pump with you. One side of the tote can fit a Medela pump perfectly which helps make set up a whole lot easier when the time comes that you already have to pump milk. On the other side of the tote is a hidden milk cooler compartment. However, if you are not very keen on keeping your milk cool in the built-in cooler, you can always fit a small cooler inside the bag, along with other pumping paraphernalia plus a few personal items. You never have to worry about bringing yet another bag for all your work and pump needs.
Clearly, the Juno Blu should be considered as the best tote bags for moms. It may be made from man-made materials but you will thank them for it eventually. Spills will no longer be something that you have to worry about because the leatherette is resistant to this and you can just wipe it off clean to prevent it from smelling bad. As for the lining, it can be turned inside out so you can clean it thoroughly and take out even the smallest crumb that have made its way inside your bag.
We'd love to put this in first place but because the Medela tote already comes with the pump, we'd have to put the Juno Blu at second spot.
Details of the Juno Blu "Esalen" Breast Pump Bag

Weight

2.9 pounds

Dimensions

15.5 x 7 x 11 inches
Sara Wells Annie Breast Pump Bag
If you are looking for a budget friendly bag that comes in a beautiful classic design, try out the Sarah Wells Annie which comes in two colors: brown and black.
What we love most about this breast pump tote is that it can fit most portable pumps available in the market including the Medela Pump In Style as well as the Freestyle version, Freemie, Spectra 1 and 2, Hygeia, Ameda, Ardo and many others. Although it does not look like much, this tote is actually specially designed to hold your pumping kit. Don't be surprised that it comes with thermal lining in the pockets. It is possible for you to put in ice packs and keep your milk cold for up to six hours inside. To inspire you to keep on pumping, there are even two photo pouches were you can keep cute photos of your little ones.
For moms who are constantly out and bout, the Sarah Wells breast pump bag is definitely a good choice. However, it is not as sturdy and strong as the others; the shoulder straps can get a little uncomfortable in the long run. You might also run into a problem with the zippers and will have to use both hands when unzipping as the fabric inside can easily get caught when you try to open the bag.
We highly recommend the Sarah Wells Annie breast pump bag for moms who do not want to make a huge investment when it comes to pumping bags. It really can just accommodate a pumping kit and not much else so you will have to carry along another bag for your work essentials. Otherwise, this bag could just easily burst in the seams because of its slightly inferior material.
Although it does its function quite okay, it still lacks in other departments so we will have to place this one at the third spot in our list.
Details of the Sara Wells Annie Breast Pump Bag

Weight

2 pounds

Dimensions

14 x 7 x 14 inches
Kaylaa Premium Breast Pump Bag
When it comes to fashionable bags for breast pumps, the Kaylaa Premium Breast Pump Bag definitely belongs at the top of the list. The reason why this bag immediately got our attention? The very modern and stylish design, of course!
But, don't let its exterior fail you because underneath it is a beautiful bag that can fit most portable breast pumps available in the market such as the Medela Pump in Style, Ameda, Spectra S1 and S2 and so much more. It is also spill and water resistant so you do not need to worry about cleaning it up after every use – just a quick wipe will do! We also love that it comes with insulated pockets that, when added with ice packs, can keep milk cold for up to six hours. That's just enough for mom to go home after pumping at work so you can save trips to the office fridge or cooler.
Can this pump bag be used as a diaper bag also? Yes, definitely! Put in your portable pump, cooler with bottles, diapers, wipes, changing pad, a few toys and even a change of clothes and they will all fit comfortably inside. In case you no longer need to pump milk, you can easily convert the bag's interiors so that you can turn it into a diaper bag or a regular hand bag. You do not have to purchase yet another bag when you have gotten to a new phase in your life as a mom.
Perhaps the main reason why we didn't quite like the bag is its weight. It definitely isn't the heaviest in the list but with its huge design, it can become a bit overwhelming just looking at it. Some parts are also a little flimsy such as the zipper and the side straps that attach to the cross body strap. If you use it regularly for quite some time, you will definitely immediately notice some wear and tear in these areas.
As such, we are placing this bag in the fourth spot in our list.
Details of the Kaylaa Premium Breast Pump Bag

Weight

2.2 pounds

Dimensions

15.8 x 15.8 x 7.9 inches
Nurse Purse Breast Pump Bag
If you are looking for a bag for breast pump that is easiest on the pocket, this bag from Nurse Purse should be high up in your list. Among all the items listed here, it is definitely the cheapest – but can it really compete well with the other bags in this list?
Obviously, what we really love most about this breast pump carry bag is that it comes at a very cheap price so purchasing it is not a decision as tough to make as the other bags. It also has a large enough space inside so it can fit both portable pump and cooler inside. However, it is limited to the type of pumps it can carry. In fact, it might not work well with a Spectra S1 or even a Medela Symphony breast pump as it is too big for the bag.
The only disadvantage to the Nurse Purse is that it does not come in a classic professional look. It does have a fun and attractive design so they are only great for moms who are not exactly in the corporate setting or those who do not mind bringing along a bag that would really stand out. It does come with a durable fabric but it is otherwise made of low quality materials and nylon handles that will probably scare you after a few uses. The bag also has fewer interior pockets than other bags available in the market.
If you are simply looking for a bag that can handle basic functionalities such as carry all your breast pumping paraphernalia when you go out of the house, go for this product. It is a decent bag that you can use even beyond pumping. Obviously, it does not offer as much as the others in the list but it still functions quite well for its price point.
After weighing all the pros and cons, we will have to place this one at the bottom of our list.
Details of the Nurse Purse Breast Pump Bag

Weight

1.4 pounds

Dimensions

18.6 x 11.5 x 6.4 inches
Just because you are working and pumping milk at the same time does not mean you should forego style and fashion. Of course, when it comes to choosing the right breast pump carry bag, functionality is always the first and biggest consideration of all but if you can add a good design to that (particularly one that can complement to your professional, corporate ensemble) then definitely go for it.
Working moms are awesome in that they are able to juggle both responsibilities with their family and with their jobs. Fortunately, a pumping bag for work is very supportive and helps take away even a bit of the stress that working and nursing moms have to go through every day.