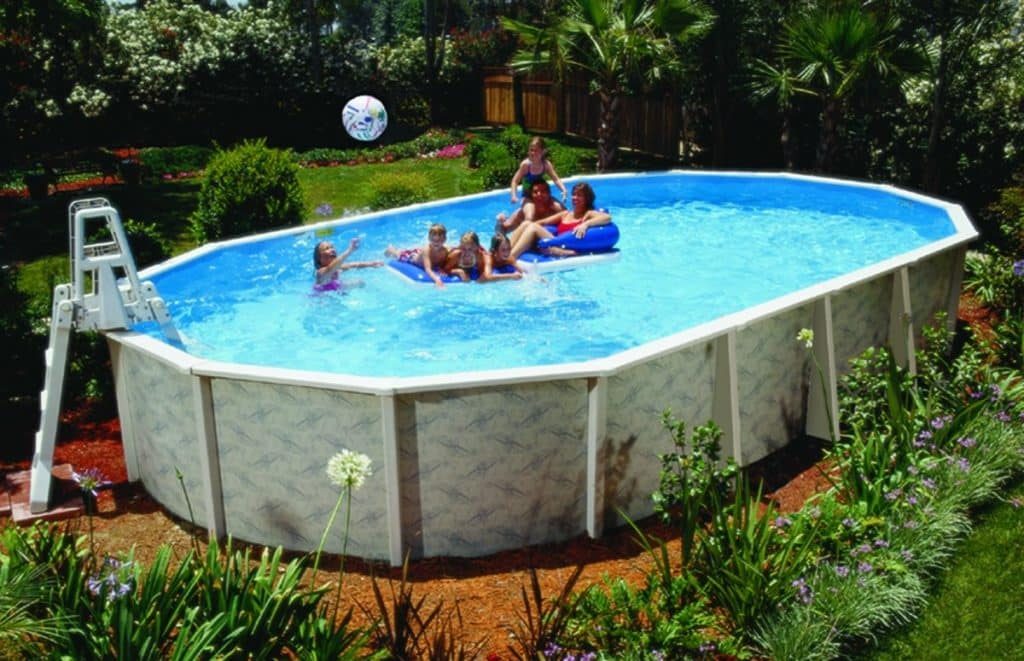 Top 5 Best Above Ground Pool for Your Family | 2020 Reviews
Summer reminds us of trips to the beach, water activities and endless fun. These things could also be done almost every day when you have a pool in your own backyard; unfortunately, this may not be the case for everyone because it could be very expensive to build and maintain a pool. Do not worry, because you still have the option to enjoy these things if you choose to get an above ground pool. What is this exactly?
These are portable pools that could be easily set up absolutely anywhere, also very affordable and highly practical in terms of value because it will provide the same enjoyment as an in ground pool. Now you have to remember that not all above ground pools are the same, you have to of course get the bang for your buck and only get the highest quality above ground pools for your family to use.
Your top choices should be:
Made with quality materials. Whether you choose aluminum, plastic or steel you have to be on the lookout for the quality. If it's made with aluminum or steel, does it have anti-oxidation layer to prevent corrosion over time? And while plastic is essentially the ideal way to go since it is not a heat conductor, if it's not quality plastic then it can easily break with frequent use.
Features such as covers, pumps and other add-ons that will either prolong the life of your above ground pool or make it easier to maintain.
After much deliberation, and a few dips on several above ground pools, we came up with our top 5 choices, which could help you in finding the right one that would fit your family's needs.
Quick Comparison Table
| Intex Ultra Frame Pool Set | Bestway Steel Pro Round Pool Set | Intex Metal Frame Pool Set | Bestway Fast Set Round Pool | Intex Easy Set Pool |
| --- | --- | --- | --- | --- |
| | | | | |
| | | | | |
| $$$ | $$$ | $$$ | $$$ | $$$ |
| 16 ft x 48 in | 12 ft x 30 in | 12 ft x 30 in | 15 ft x 36 in | 12 ft x 30 in |
| 8+ people | 4-7 people | 4-7 people | 6-8 people | 4-7 people |
| 5,061 gallons | 1,710 gallons | 1,718 gallons | 2,689 gallons | 1,780 gallons |
| | | | | |
Intex Ultra Frame Pool Set
What is the best above ground pool? We have every reason to believe that it is the Intex Ultra Frame Pool Set. You will surely have a great time lounging in the pool instead more than the time spent in setting this up. Simply watch and follow carefully the instructions provided in the DVD and everything should be a walk in the park, or rather a dip in the pool! This Intex pool could have ample space to accommodate 8 or more people, perfect if your child would want to host a pool party with his friends.
There is no worry if the kids would get rowdy and splash waters to and fro, the frame is made with durable steel frames. These frames are protected by a lawyer of powder which prevents it from accumulating rust with continued use. The sidewalls are also strong enough to handle the weight because they are laminated, and backed up by a band to keep its legs and overall frame in place.
If you worry about contamination, and your kids accidentally drinking pool water, the dual suction outlet fittings effectively circulate it and the salt water generator works at its best in keeping the water clear. All that is left for you to do is make sure that the ground you are putting the pool into is properly levelled and free from stones and other elements, you could even set up a deck around it for the kids to jump from and you are all set. When it comes to changing the water, the drain plug can easily connect to a garden hose, so you will not have a problem with this.
After all the things that we found out about the Intex Ultra Frame Set, we believe that it is a great family inflatable pool, with no fuss set up or clean up. But a little warning, because once this is set up on your lawn or backyard, it could be difficult to keep your kids away from it.
Details of the Intex Ultra Frame Pool Set

Size

16 ft x 48 in

Number of People

8 or more

Dimension

16 x 48 x 48 in

Water Capacity

(90-percent) 5,061 gallons

Filter Pump

1,200 gallon per hour flow
Bestway Steel Pro Round Frame Pool Set
The Bestway Steel Pro Round Frame Pool Set is one of the nice looking above ground pools in the market today. The pool is round with simple but sturdy steel frames that are easy to set up making the assembly easier than most pools. The instructional DVD is very informative that the pool setup is a breeze, but this does not include the work you need to put in to make sure that the ground is levelled enough to put it in. We believe that this additional step is important to note when setting up any kind of above ground pool, you have allow ample time for the ground levelling part to exercise the full use of your chosen above ground pool setup. It has the capacity to contain at least 4 to 7 persons in it with about 1,710 gallons of water, ideal for small families who just want to lounge around a pool or to cool off in a summer day. Since the pool is not that deep, it is perfect for smaller kids who like to enjoy the water or learn basic swimming techniques, just remember that even if this is the case, we still highly recommend for you to keep an eye on them at all times because accidents could happen even in the safest environments.
The size is also great for families who have smaller yards; it would not eat up a huge amount of space. The pool set includes a 330 gallon filter pump which you could run for longer periods of time to compensate for the time you are using the pool. If you need to drain the pool for safekeeping or to clean the pool, the flow control drain valve is very useful and will enable you to do it faster.
The frames are made with rust-resistant steel and the connectors around the pool are designed to prevent it from moving around when in use, which we really couldn't help once the kids get excited. Should the pool accidentally be punctured, you do not need to worry because a heavy duty PVC repair patch kit is also included to solve this problem immediately. It's not our top choice because we can't have a party if it only fits 4 to 7 people at a time.
Details of the Bestway Steel Pro Round Frame Pool Set

Size

12 ft x 30 in

Number of People

4 to 7

Dimension

32 x 144 x 144 in

Water Capacity

1,710 gallons

Filter Pump

330 Gallon
Intex Metal Frame Pool Set
The attraction to water is very basic, once you see a pool whether an in ground or above ground type you get sucked in. You either want to jump in and dive or just splash the water with your feet. Another Intex pool on our list is the12 feet by 30 inch metal frame pool set, where you could easily beat the summer heat with. Similar to the first two on our list, this also has the signature metal frame that is highly used for its strength and durability. This comes in handy when the kids or kids at heart are getting a little bit excited and the water activities physical. The sidewalls are laminated and reinforced by an all-around band basically to make sure that the frame withstands all the activities happening inside.
This is one of our favorites because it definitely fits what we believe to be the standard above ground pool sizes. It could handle 4 to 7 persons, a family pool party with probably Grandma and Grandpa, totally awesome. The instructional DVD included in the kit is easy to understand and follow, just make sure that once you receive this item you arrange and check all the parts.
The Krystal Clear Cartridge Filter pump makes sure that the water in the pool is clean and safe to enjoy. We are also happy about the added safety that the ground fault circuit interrupter brings; this triggers the pump to shut down when exposed to water. This feature is wonderful because safety should always be our top priority. Since this is Intex, it has the same drain plug system wherein once connected to a house is available for easy draining, and the sidewalls are laminated and are break proof.
All in all, this is a great pool to buy; you could fence it and secure the area for additional safety or modify the ladder to get the platform you require. However, the filter may not be capable of clearing all the other debris that may fall into your pool so it would be best to get a skimmer to handle that. Otherwise, still one of the best above ground pools we have today.
Details of the Intex Metal Frame Pool Set

Size

12 ft x 30 in

Number of People

4 to 7

Dimension

30 x 144 x 144 in

Water Capacity

(90-percent) 1,718 gallons

Filter Pump

530 gallon per hour flow rate
Bestway Fast Set Round Pool
We believe that the Bestway Fast Set round pool is the one of the easiest to set up backyard above ground pools. Why do we say so? All you have to do to set this baby up is to choose a location where you want it erected, inflate the top ring and fill with water. And in just three easy steps, you have a pool that would fit around 6 to 8 people, oh what fun! If you still have difficulty setting the pool up, no worries, you could always watch the instructional video to make things easily understandable.
This Bestway pool is also not too deep, great for little children who are usually the audience for this kind of recreation. Once the pool is filled with water which is also easy because the pool set comes with a 530 gallon filter pump; you could sit back, relax and just wait for the fun to start, which we're pretty sure won't take that long. The pool wall is made of heavy duty PVC and polyester, which guarantees durability. This is also one of the great inflatable pools for adults who don't have the budget and time to get an inground pool or are not exactly keen on inflatables that have tons of parts to mind. Although the 3-ply wall is durable, you still need to be mindful of other materials that could accidentally cause leakage or holes such as sharp objects.
If you encounter a leak or the pool is punctured, you have the heavy duty repair patch to get it done. The flow control drain valve also makes it easy to drain the pool in no time, attach it your hose and let it do all the work. This above ground pool, comes with a filter pump and cartridge, cover, ground cloth and a ladder, basically all the things you need to set up when you want to have tons of awesome water fun.
Despite all the wonders of this pool, it could be a little difficult to find a replacement filter cartridge, and although the pump's cord is long it has to be plugged to an outlet directly, so setting it up far away from an outlet is not a great idea.
Details of the Bestway Fast Set Round Pool

Size

15 ft x 36 in

Number of People

6 to 8

Dimension

36 x 180 x 180 in

Water Capacity

(80-percent) 2,689 gallons

Filter Pump

530 Gallon
Intex Easy Set Pool
This is another one of the easy set up above ground pools that we love, very easy to assemble and store when not in use. It is also affordable depending on the time of purchase, of course these goes on sale when the summer is over. If you have not yet decided if you really want to have a pool in your backyard, this is an option, to gauge the maintenance, size of pool you prefer or even how frequent your family would use the pool.
It comes with a 110-120 Volt Filter pump which you could easily hook up to the pool to provide clean and clear water, the amount of time spent on filling it with water may actually vary depending on the water pressure of your area. Similar to the previous easy set up pool, you just need to inflate the top ring and fill this pool with water to enjoy it. Once you decide to disassemble it, you could rely on the drain plug that fits a garden hose to help you get rid of the water.
Despite the ease of assembling and disassembling of this product, it may not be wise to store it, as it could take up a lot of space in your garage or storage area. Plus the fact that there are no frames that could support it during usage, it would be best if you could fence it in or add support to maximize the usage. All the pools need to be in a levelled surface, but we have to stress it out for this one, since it could topple over easily which may result to injury if the ground is uneven.
You would still get the value for your money once you see your little ones excited over your new Intex pool, definitely graduating from the one person swimming pool they could previously have. More exciting water activities surely await your whole family for the whole summer long, pool party anyone?
Details of the Intex Easy Set Pool

Size

12 ft x 30 in

Number of People

4 to 7

Dimension

30 x 144 x 144 in

Filter Pump

530 gallon per hour flow rate
Conclusion
Once you finally set up one of this high quality above ground pools it will automatically fulfill their purpose and that is to provide a fun and exciting water experience for you and your family. Prepare for massive amount of love and splashes of water coming your way. Don't say we didn't warn you.