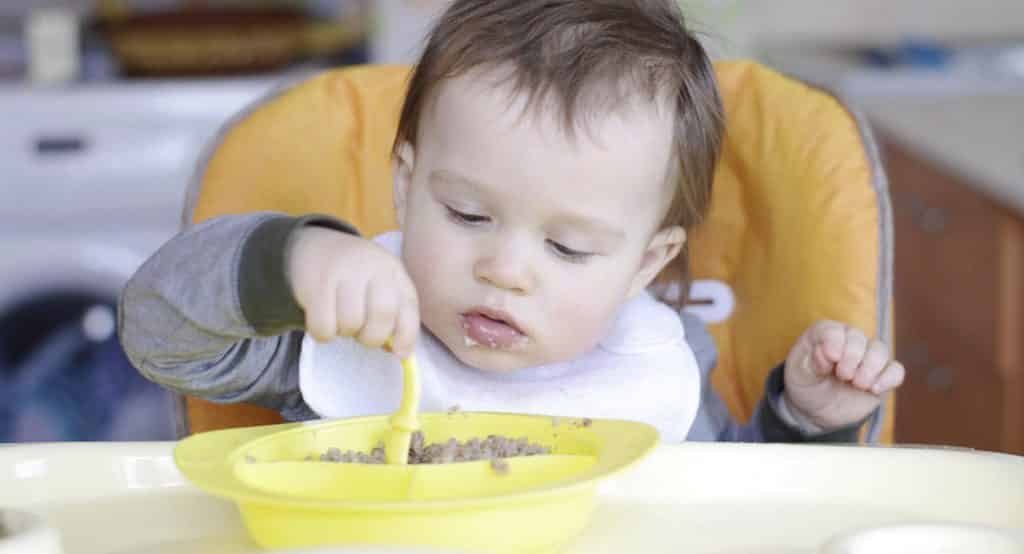 Top 5 Best Baby Utensils | 2020 Reviews
Introducing solids to your baby is a huge milestone that any parent would want to celebrate. Sure, being served with pureed food might not feel the same way as tasting real food but the taste is definitely there.
Now, when it comes to celebrating this milestone, parents would want to make sure that they invest in the right items that will make eating fun, memorable and easy. This means stocking up on the plates, bowls, spoons and even forks!
But, why would one want to invest in yet another set of utensils when there are already a few sets that can be found in the kitchen? As a parent, it is very important to remember that a baby's need is a whole lot different from that of an adult. The regular teaspoons that adults use are too deep and will make eating difficult. Choosing the wrong baby utensils could end up hurting your baby's very delicate mouth!
As such, it is highly recommended that parents go for baby utensils that are made from flexible plastic materials and that are designed to be shallower than regular. This way, your little ones are able to eat food – or even feed themselves – much easily. This also makes the weaning process easier plus it keeps your baby safe, too.
With so many brands introducing all types of baby utensils in the market, it is crucial that parents make their choice very carefully. Here at ParentsNeed HQ, we do our best to help fellow parents make better decisions when it comes to their kids so we have come up with our list of the best baby utensils for feeding time.
Quick Comparison Table
| OXO Tot On-the-Go Feeding Spoon | Boon Squirt Silicone Dispensing Spoon | Munchkin Soft-Tip Infant Spoon | Gerber Graduates Spoons BPA Free | Beaba 360 Magic Self-leveling Spoon |
| --- | --- | --- | --- | --- |
| | | | | |
| | | | | |
| $$$ | $$$ | $$$ | $$$ | $$$ |
| 1.6 ounces | 2.4 ounces | 4 ounces | 4 ounces | 0.6 ounces |
| 0.8 x 1.2 x 6.6 in | 2 x 2 x 7.1 in | 7.1 x 3.2 x 1 in | 6.2 x 2.3 x 0.8 in | 6 x 0.8 inches |
| Aqua, Green, Pink | Blue, Green, Orange, Pink | Red, Orange, Pink, Green, Blue, Violet | Red, Orange, Green, Blue | Green |
| | | | | |
OXO Tot On-the-Go Feeding Spoon
No matter where you may be, it is important that you are always ready with the right tools in hand once your baby starts eating solids. OXO Tot's on the go feeding spoon had that particular situation in mind which is why this item is one of the most preferred products for families who are always on the move.
There are certainly many things that we love about this baby feeding spoon and its being able to help parents and caregivers feed little kids without worries about sharp edges is just the start. What exactly is this spoon made of? The feeding spoon makes use of a food-grade silicone coating to provide a soft touch to your baby. This way, you never have to worry about feeding sessions hurting your little one's very soft gums.
It also comes with just the right size, perfect for those very tiny mouths. The design of the spoon is just shallow enough to hold just the right amount of food that your baby needs. You do not have to be worried about feeding them too much all at once because you can already "measure" the amount of food that goes into their mouth through the spoon. It is also designed to have a soft tip and long handle so it is able to scrape off even the tiniest bit of food left in the bottom of the baby jar.
Most importantly, we love that this spoon for babies comes with a compact carrying case. A lot of parents take this one for granted and simply place the spoon inside the diaper bag. Have you ever tried emptying the contents of a diaper bag only to find little bits and pieces of food inside? Gross, isn't it? With this spoon's compact carrying case, you can be sure that the spoon stays clean even if you stash it inside the diaper bag.
We really do not have anything negative to stay about this item. The spoon is free from PVC, BPA and phthalate and it is also dishwasher safe. Even the travel case can be tossed into the dishwasher without a problem. As such, we believe that this deserves to be placed at the top spot in our list.
Details of OXO Tot On-the-Go Feeding Spoon

Weight

1.6 ounces

Dimensions

0.8 x 1.2 x 6.6 inches

Colors

Aqua, Green, Pink
Boon Squirt Silicone Food Dispensing Spoon
Another baby spoon that we highly recommend here at ParentsNeed HQ is the Boon Squirt Baby Food Dispensing Spoon. This is also great for families who are always on the go or for parents who are simply annoyed of the messes that feeding creates or are scared that they might be feeding their baby too much with every spoonful.
So, what exactly do we love about this food dispensing spoon? As its name suggests, this baby utensil takes a lot of the process that goes into feeding so parents can simply focus on each spoonful that they give to their baby. All you have to do is take the baby food, place the contents inside the spoon handle, remove the jar (and thus the mess) and then pack everything in just one utensil. Whether you decide to do the feeding at home or elsewhere outside of the house, you can be sure that you have everything that you need with just a single spoon.
Exactly how much food can this baby food dispensing spoon hold in one go? It actually comes with a large capacity and can keep in as much as three ounces of stage 1 or 2 baby food. Then, all you have to do is squirt the baby food from the spoon and it comes out in just the right amount so you also do not have to worry about giving them too much food in each spoonful. Once you are done, you can simply pop on the cap to seal the food and use it again for later (provided that it still has not spoiled).
Aside from being very easy to set up and use, this spoon is also very easy to clean. You can place it in the dishwasher and it is already good to go. For some parents, using a microwave sterilizer or simply putting it in hot water also does the job. You can say goodbye to messes and say hello to more enjoyable feeding sessions with your little one.
Although there are some parents who have complained of leaks, it has been an isolated case so far. We are putting this one at the second spot in our list.
Details of Boon Squirt Silicone Baby Food Dispensing Spoon

Weight

2.4 ounces

Dimensions

2 x 2 x 7.1 inches

Colors

Blue, Green, Orange, Pink
Munchkin Soft-Tip Infant Spoon
Ready, get set, feed! Feeding babies with solids is a huge milestone for everyone – yes, including the parent – and, during this time, it is important to remember that they cannot just use any ordinary spoon. Not only because it is such a big day to celebrate but also because a baby's mouth is very delicate and small, so regular spoons certainly do not make the cut.
These soft infant spoons from Munchkin are a great choice for any parent. They are made with very soft tips, perfect for use on your baby's soft gums and little mouths. You do not have to worry about hurting them while feeding them because these are very soft and do not come with sharp edges but instead have rounded shapes. Certainly, you would want this huge milestone to be remembered because of the wonderful flavors that their first solids bring and not because they are crying and wailing.
Of course, these spoons are made not just with baby in mind but also moms and dads, too. These cute spoons for babies are ergonomically designed so that they are very comfortable to hold. They are also made with long handles so it becomes easy for the parent to reach even the bottom-most part of the baby food jar. It certainly makes feeding a lot easier for everyone!
Most importantly, these spoons are free from BPA and other harmful chemicals that could possibly seep into your baby's food. Even better is that they are safe to put in the top rack of the dishwasher so it makes cleaning up a lot simpler, easier and faster as well! Just make sure to avoid steam sterilizing them as it may result to its shape warping but otherwise they are still good to use on your baby.
Perhaps our only main gripe is that they cannot stay upright when leaned against a bowl or container so it causes spillage and messes. Otherwise, we think it is a great product and very colorful, too. Thus, we believe these spoons deserved to be placed at the third spot in our list.
Details of Munchkin Soft-Tip Infant Spoon

Weight

4 ounces

Dimensions

7.1 x 3.2 x 1 inches

Colors

Red, Orange, Green, Blue, Violet
Gerber Graduates Spoons BPA Free
For parents who do not quite like the plastic look of baby feeding spoons but are looking for alternatives to regular utensils that are safe to use on little ones, the Gerber Graduates Spoons is the perfect answer.
Why is it the perfect feeding spoon for little tots? For starters, the tip of the spoon comes with soft silicone that ensures that the gums of your kiddos do not get hurt in the process of feeding. You would not want their memory of food be a traumatic one, right? Of course, this product was designed with the parent in mind. The spoon is designed to have a long, curvy handle making it a whole lot easier and more comfortable for everyone to feed the baby. This definitely makes things a lot more enjoyable and entertaining for everybody.
Another reason why we love this spoon is that it is shallow so it becomes easier for both baby and parent to actually get food where it needs to be: in the mouth. The size and width of this adorable baby utensil is just right for those little mouths and you can be assured that you are not getting more than enough food with each spoonful. If you are feeding teething babies, you also need not worry about damaging the silicone rubber that cover the tips because they are very strong and sturdy and do not get damaged easily. In fact, they might just like biting into the tips because the rubber probably feels good on their teeth.
The only main reason why we are not ranking this much higher than you probably expect is because of the assorted colors. It does not really lessen the performance of the utensil but it certainly would be great if you know what colors you will be getting for each set that you buy. Otherwise, we do not have any problems with the spoon. The price point is also not bad considering that you get six of them in each pack.
After weighing all the pros and cons of this item, we have decided that this deserves to be placed at the fourth spot in our list.
Details of Gerber Graduates Spoons BPA Free

Weight

4 ounces

Dimensions

6.2 x 2.3 x 0.8 inches

Colors

Red, Orange, Green, Blue
Beaba 360 Magic Self-leveling Spoon
This list is mostly focused on baby utensils that parents can use on babies who are just being introduced to solids. However, we believe that it is also worth the while to look into spoons that self-feeding kids can use which is why we have included the Beaba 360 Spoon in our list.
It is very important to choose the right type of spoon for toddlers because learning to use it can be very tricky for them. No matter what type of food they are trying to eat, messes and spillage will almost always be there but the right spoon design can help lessen that. What makes this baby utensil so innovative? For one, it comes with a 360-degree rotating handle which helps ensure that the spoon will always stay horizontal no matter what angle it is being held at. This will then help prevent food from spilling all over the place. Because of that, it makes the perfect eating companion for toddlers learning to feed themselves as well as for the little kids who have certain disabilities. However, this might not be the best utensil to use for those with severe coordination issues.
Of course, toddlers will learn over time and will be able to master feeding themselves but you do not have to purchase yet another spoon for the job. Simply lock the rotating handle into place and this should help them transition into a regular spoon eventually. Aside from the neon color, this also comes in various vibrant colors that will surely appeal to small kids. Parents need not worry so much as this one is free from BPA, lead or phthalate.
The biggest flaw we believe that this spoon has is that it is too deep. It is hard for toddlers to get food out of this spoon and even adults may encounter the same difficulty as well. It does come at a great price point but because of the design (and the self-leveling magic does not do its trick one hundred percent of the time), we will have to place it at the fifth spot in our list.
Details of Beaba 360 Magic Self-leveling Spoon

Weight

0.6 ounces

Dimensions

6 x 0.8 inches

Colors

Green
It might seem like a huge investment but, trust us, getting the right type of spoon for your little kiddo will be worth it. Being a parent is a lot of fun as you are able to do all the shopping that you want but you also need to make sure that you choose high quality products that are well worth your money. Buying baby utensils is not about spending money, it's about ensuring that your little one is able to enjoy healthy meals and snacks in a fun and safe manner. If you choose properly, you might just be able to use these baby spoons as baby teethers!