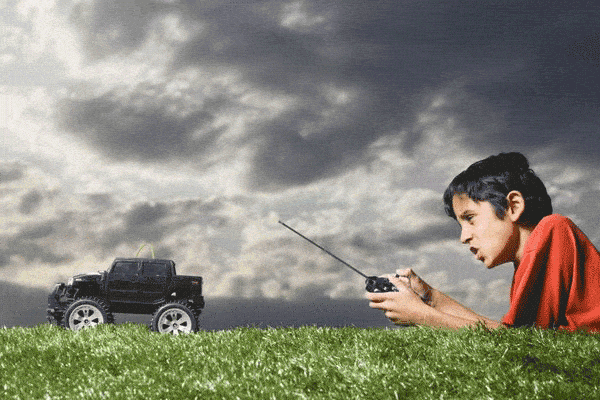 Top 5 Best Remote Control Cars | 2020 Reviews
There are many categories in which it's nearly impossible to select a "top 5" – because the age, goals and experience range of those shopping for the products differ so greatly. Remote control cars are the perfect example. Toddlers delight in being able to "drive" their own cars in the hallway or on the sidewalk, off-roaders are looking for vehicles with great traction and versatility, and dedicated hobbyists are searching for the ultimate in performance and customizability.
For many kids, their first RC vehicle is a stepping stone to more complicated models and a lifetime of enjoyment, while others just have fun bashing their car into walls or trees and then move on to do the same thing with their bikes or sleds. Conversely, a large group of adults spend the bulk of their spare time (and their spare money) on building and upgrading remote control cars and trucks and want the very best their budget can allow.
In putting together our reviews for this list we decided to cover all of the bases and judge each RC car based on how well it accomplishes the purposes for which it was designed. We're not looking for a 2.4 GHz pistol-grip controller on a car for kids; not only is it unnecessary, but it would be quite difficult for most young drivers to master. On the other hand we're not concerned with the speed and handling of entry-level remote control cars, but consider them crucial criteria when ranking an RC vehicle for hobbyists.
There are some measures, though, which are important across all of the entries on our list: the quality of the build and durability of the car, the ease-of-use of the controller for the target age or experience group, and perhaps most important of all, battery life. Naturally, no one wants to be seen driving an ugly vehicle whether it's on the road or on the track, so we've also considered the looks of these RC cars. And it goes without saying that the price of the car has a bearing on our rankings, since we love a good bargain as much as you do.
Here are the top 5 best remote control cars on the market.
Quick Comparison Table
| Traxxas RTR 1/10 XL-5 Rustler | Axial Racing 90022 1/10 SCX10 Trail | Maisto R/C Rock Climber Extreme | Redcat Racing Blackout Monster Truck | HPI Racing 107016 Trophy Buggy Flux |
| --- | --- | --- | --- | --- |
| | | | | |
| | | | | |
| $$$ | $$$ | $$$ | $$$ | $$$ |
| 35 mph | Not specified | 4 mph | 40 mph | 50+ mph |
| 10-15 mins | Not specified | 15-30 mins | 30 mins | 60 mins |
| | | | | |
Traxxas RTR 1/10 XL-5 Rustler
We open with the latest version of a true classic which has been around for several decades and remains the best-selling 1/10 stadium racer. It's too advanced to be a good choice for kids, and it's not sophisticated enough or fast enough to be the best car on the track. What it is, though, is "simple" enough to be a good first RC car for teens or adults just starting with the hobby, a vehicle which can be run stock at your local club but is also easy to upgrade (with tons of options on the market because of the car's longevity, a durable and reliable car – and a ton of fun to drive. It's "RTR" (ready to race) out of the box, too.
The Rustler is well-made, primarily from durable fiber composites and metal, and its electronics are dustproof and waterproof. That lets the car survive all of the inevitable crashes it will suffer and just as importantly, the wear of continued use as well as runs through puddles, mud and snow. There are a number of features which elevates this Traxxas model over the competition, including live-axle front suspension, a three-gear variable-ratio transmission, a Revo-spec Torque-Clutch slipper clutch and ribbed front tires. You can drive the Rustler aggressively, take it off-road, show off your power slides or just fly around the track without worrying about the effects of going full-throttle, even though it's only a two-wheel drive model.
This remote control car is powered by a Titan 12-turn modified 500 motor with an integrated cooling fan, requiring little maintenance and lasting longer than similar motors. And perhaps the best feature of the Rustler is the XL-5 electronic speed control with one-button setup, high current handling and low resistance and three selectable drive profiles, as well as a 50% power training mode for those just starting out. You would only expect control like this with an expensive upgrade.
User experience is just as impressive, with 2.4 GHz TQ radio control remote that has a pistol grip and the steering wheel on the side of the remote. It doesn't take long to master, and only requires four AA batteries making it lighter than many other remotes. Speaking of batteries, the Rustler operates on a 3000mAh seven-cell NiMH battery which should give you about 10-15 minutes of driving time before a long (6-8 hour) recharge with the included charger. Battery and charger upgrade should be the first thing you look to spend extra money on.
This remote control car looks sporty and hot with its custom decals, spoiler and oversized tires, and will perform extremely well for an RTR model with a top speed of 35 miles per hour on the track. For less than $200, it's our choice as the best RC vehicle for most buyers.
Details of the Traxxas RTR 1/10 XL-5 Rustler

Radio System

TQ 2.4 GHz

Receiver

6519 three-channel micro receiver

Motor

Titan 12-turn 550 modified

Battery

3000mAh 7-cell NiMH

Speed Control

XL-5 electronic, waterproof

Maximum speed (without modifications)

35 mph

Approximate run time

10-15 minutes

RTR

Yes

Waterproof

Yes

Size

18 x 13 x 8 inches

Weight

7 pounds

Warranty

30 days
Axial Racing 90022 1/10 SCX10 Trail Honcho RTR
We promised to cover the wide range of users and desired uses for RC cars in these listings, and we're always true to our word – so here's a vehicle which is the best remote control car for off-road aficionados.
It would be difficult to find a more durable remote control car (actually, this is half-buggy and half-truck, popularly known as a "truggy") or one that's more fun to drive on rugged terrain. The 90022 has built its reputation on two major attributes: its uncanny resemblance to real ATVs, and the power that lets it push through or over almost any trail obstacle (and by upgrading the 1.9" scale wheels a bit, you can remove the word "almost" from that sentence).
The Trail Honcho's power comes from an Axial 27T motor, WB8 Wild Boar driveshafts, super-tough axles and Ripsaw tires with thick tread mounted on racing wheels, and it's amazing to see what those components will let this truck do. For durability there's a steel C-channel ladder frame, and for stability there's four-link rear suspension with oil-filled shocks and dual-rate springs. Axial has thought the construction through in detailed fashion.
Control is handled by a two-channel 2.4 GHz radio and an AE-2 electronic pistol-grip speed control, complete with trim dials for incremental changes in throttle and steering, a drag brake helpful when crawling, and LED indicators; it's intuitive to learn and also programmable by non-included Castle Link. You can get very good speed by adjusting the transmission ratios, but don't expect the Trail Honcho to blaze. What you should expect is a RTR true-to-life 1/10 truggy that will perform almost as well as the real off-road vehicles it emulates. It won't come cheap, though, with a price around $350, and that doesn't include a 7.2 volt battery pack which must be purchased separately. The good news: it's an absolutely terrific RC car.
Details of the Axial Racing 90022 1/10 SCX10 Trail Honcho RTR

Radio System

2.4 GHz

Receiver

AR-3 three-channel receiver

Motor

Axial 27T

Battery

Not included

Speed Control

AE-2 electronic

Maximum speed

Not specified

Approximate run time

Depends on battery selection

RTR

Yes

Waterproof

No

Size

12 x 9 x 6 inches

Weight

4 pounds

Warranty

Not specified
Maisto R/C Rock Climber Extreme
This is on our list of top 5 best remote control cars for two reasons. It's a great model to give to children (say, age 6 and up) as their first RC vehicle, yet it also packs some serious off-road abilities for older kids thanks to the three on-board motors (two for powering the vehicle, one for steering). Oh – and it only costs about $30.
No rock climber is going to go fast. The Maisto, however, is s-l-o-w with a top speed of about four miles per hour. That's fine if you're really exploring tough terrain, and it's also fine if you've got a younger driver just learning to control a remote controlled car. There are two features which makes the Rock Climber Extreme more suitable for kids, though. One is that the steering is controlled with a tiny steering wheel that doesn't turn the car in increments, which is easy for children to figure out but can be a little frustrating for adults; the other is that it's powered solely by 6 AA batteries (and the controller needs three AAAs). Expect to be changing them often unless you spring for NiMH rechargeable ones.
The body is vacuum-molded plastic but quite durable, there's independent suspension along with tall-tread patterned tires allowing for very impressive off-road performance (albeit at slow speeds), and the three-band 27 MHz system surprisingly provides good range. In a nutshell, this Maisto provides excellent performance in a toy-grade RC car, for a terrific price.
Details of the Maisto R/C Rock Climber Extreme

Radio System

27 MHz, three-band

Receiver

N/A

Motor

Three small motors

Battery

Requires six AA batteries for car

Speed Control

Basic throttle and steering wheel

Maximum speed

4 mph

Approximate run time

15-30 minutes

RTR

Yes

Waterproof

No

Size

13 x 8 x 6 inches

Weight

4 pounds

Warranty

30 days
Redcat Racing Blackout XTE 1/10 Monster Truck
We wanted to include one more standard – and fast – hobby-grade remote control car on our list, and even though the Blackout XTE is a monster truck rather than a "car" it can really motor.
There's a brushed electric motor (with a heat sink) powered by a 3000mAh NiMH rechargeable battery under the lightweight polycarbonate chassis and you'll find yourself able to hit 40 mph or even higher. Without the fan system that's on the Traxxas you may find that you experience occasional overheating problems if you push this baby too hard, but when your vehicle is going full speed you'll think that a little downtime will be worth it. The package is controlled with a 2.4 GHz radio system and a full-featured remote.
This Redcat model has oil-filled shocks with adjustable springs, offroad-style tires for good traction and shaft-driven four-wheel drive; combined with the ability to fly on pavement, that makes for a very versatile and enjoyable RC vehicle. Is it a Traxxas or an Axial? No, but it's also only $130. If that's your price range, the Blackout XTE is a good lower-cost alternative.
Details of the Redcat Racing Blackout XTE 1/10 Monster Truck

Radio System

2.4 GHz, three-channel

Receiver

N/A

Motor

RC550 brushed electric

Battery

3000mAh NiMH

Speed Control

Waterproof electronic

Maximum speed

40 mph

Approximate run time

30 minutes

RTR

Yes

Waterproof

Electronics

Size

17 x 11 x 5 inches

Weight

7 pounds

Warranty

90 days
HPI Racing 107016 Trophy Buggy Flux
For the sake of putting together a complete list of the top 5 best remote control cars we decided to briefly mention the best reasonably-priced nitro-style remote control car on the market, and that's this terrific buggy.
If you're not familiar with nitro cars, they run on fuel rather than electricity. That means they're more expensive to buy, you have to purchase fuel regularly, and they require a lot of maintenance. But for a true RC hobbyist there's no substitute; they're faster, noisier and "the real thing." They're also what you need to do those amazing big-air flips and stunts you've seen on YouTube. The Trophy Buggy Flux could be called the best of both worlds – it's a nitro model, but it's been updated to operate with a brushless Flux Scream electric motor rather than requiring fuel. That makes it less expensive and easier to operate and maintain.
This is a 1/8 model, with an aerodynamic bodyshell, F3.5 engine, angle-pin racing tires and a rear wing for performance, and an aluminum chassis and shock towers for durability and stability on the track. Add in four-wheel drive and servo steering via 2.4 GHz two-channel radio and a Flux Range electronic control, and you have an RC car that's going to approach the performance level of a true nitro vehicle without the hassles. It's not fully RTR because it comes without batteries, but it does arrive fully assembled.
Take a deep breath – and now we'll tell you this HPI Racing buggy will run you anywhere from $500-$1000 depending on where you purchase it. You'll pay a lot more for a high-end nitro car, though, and this is a terrific introduction to what those models can do.
Details of the HPI Racing 107016 Trophy Buggy Flux

Radio System

2.4 GHz, two-channel

Receiver

N/A

Motor

F3.5 Flux Scream brushed electric

Battery

Requires two 2S LiPo batteries with Deans plugs, not included

Speed Control

Flux Range waterproof electronic

Maximum speed

50+ mph

Approximate run time

60 minutes

RTR

Yes after inserting batteries

Waterproof

Electronics

Size

20 x 12 x 7 inches

Weight

11 pounds

Warranty

Two years, limited