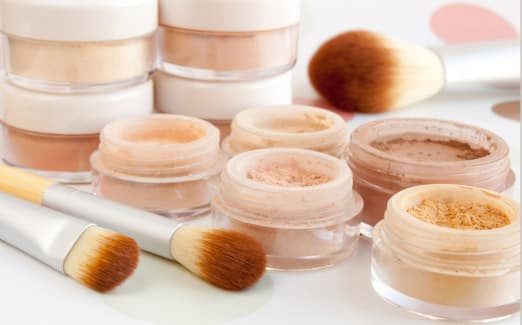 Best Mineral Makeup Buying Guide
Have you often found yourself going through the cosmetics section and found yourself overwhelmed by all the different kinds of products available? Perhaps one one or two sales person tried selling mineral makeup to you long ago, but you unknowingly dismissed the idea of it. To you, mineral or not, they were all just the same. We regret to inform you that no, mineral makeup is not like your ordinary makeup. Change is here, and it is about time we talk about the wonders of mineral makeup.
First, let's talk about cosmetics in general. Cosmetics are products which are used to improve a person's appearance and scent. Cosmetic products that improve the appearance include foundation, eyeliners, eyeshadows, concealers, mascaras, lipsticks and blush ons. Perfumes and colognes fall under cosmetics products that enhance the body's scent.
Mineral makeup is a type of cosmetics that is made with loose, mineral powders. This type of cosmetics include foundations, eye shadows, blush ons and bronzers. Mineral makeups have longer shelf-lives owing to their dry formulations and to the absence of liquid ingredients. They are generally considered by dermatologists to be safer and gentler on the skin. This is primarily due to their formulations which do not contain preservatives, parabens, mineral oil, chemical dyes and synthetic fragrances. They do not clog pores and are non comedogenic. Mineral makeups often give shimmering and sparkling effects due to their pearlescent and nacreous properties.
Titanium dioxide and zinc oxide, both of which are components of physical sunscreens, are commonly found in mineral makeups as well. These components effectively block the UV rays of the sun, thus one more beneficial thing about mineral makeups is their ability to protect the skin. Titanium dioxide and zinc oxide have anti-inflammatory properties. Mineral makeups containing them are therefore recommended for people suffering from skin diseases such as rosaceae, since they provide calming effects. Zinc oxide is a known antimicrobial agent, making mineral makeups containing it beneficial for acne-prone skin.
Cosmetic products that are available as mineral makeups
● Mineral Makeup Primers
Mineral makeup primers are used to prepare the skin before foundations and concealers are applied. They serve to smoothen the skin's surface to allow even and flawless application of makeup.
● Mineral Makeup Foundations
Mineral Makeup Foundations are designed to make the skin appear smooth. They cover up flaws of the skin and even out the skin's tone, giving it a uniform appearance.
● Mineral Makeup Concealers
Mineral Makeup Concealers are more pigmented than foundations. They are used to correct blemishes and cover up discolorations on the skin. Unlike foundations, concealers are used to cover only small parts of the face.
● Mineral Makeup Blush-ons, Bronzers and Highlighters
Mineral Makeup products also include cosmetics that provide extra color and character to the face. They further define the face by highlighting the features.
● Mineral Makeup Finishing Powders
Mineral makeup finishing powders are used to set foundations and other makeups. Finishing powders are especially important for mineral makeup since mineral makeups tend to wear off easily, primarily due to their lightweight characteristic.
● Mineral Makeup Eye Shadows and Eye Shadow Primers
Mineral makeup for the eyes are highly pigmented products. They are lightweight and gentle on the skin and they are perfect for eye application. Primers are used to create a smooth surface on the skin around the eyes to prevent creases from forming.
● Mineral Makeup Eyeliners
Mineral makeup eyeliners are used to define the eyes by drawing lines on the eyelids. They are meant to make the eyes appear larger or smaller, both depending on how the eyeliner is worn.
● Mineral Makeup Mascaras
Similar to the use eye liners, mineral makeup mascaras give definition to the eyes and serve to attract attention towards the eyes. Mascaras are applied on the eyelashes, making the lashes appear luscious and thick. They are the perfect tool to finish off that doe-eye look most women desire.
● Mineral Makeup Lipstick
Mineral makeup lipsticks provide maximum lip coverage at a lightweight cost. These are highly pigmented cosmetic products applied over the lips to make them look more attractive. The only setback about their lightweight formulations is that they may require to be frequently retouched.
● Mineral Makeup Lip Plumpers
Mineral makeup lip plumpers serve to do exactly just that - make your lips look plumper. They commonly come infused with mint and other natural herbs, which encourage plumping, instead of potentially harmful chemicals commonly used in non mineral makeup products.
How to Buy Mineral Makeup
Now, then, are you still with us? Are you able to keep up with all the many forms mineral makeups can come in? We here at ParentsNeeds HQ are barely keeping up, too, to be honest. Shopping for mineral makeups can get quite overwhelming. We aim to aid you in buying your first mineral makeup kit, or switch to a better kind if you have already gotten started with mineral makeups. This buying guide will help you choose the best mineral makeup that is suited for you. Today, we will present to you some of the thing important things to consider when shopping for miner makeup.
What is in the mineral makeup?
The first thing we would like for you to practice is vigilance. With the rise in fame of mineral makeups, more and more consumers are trying to get theirs hands on them. As a result, more and more brands want to get their hands on our money and take advantage of the demand. Sometimes makeups containing some mineral ingredients along with potentially harmful chemicals are being marketed as pure mineral makeup products. Learn to examine the label and familiarize yourself with ingredients that you would want to avoid. These include parabens, lead, talc, mineral oil, phthalate-based fragrances, and coal-derived colorants to name a few.
Parabens such propylparaben, benzylparaben and methylparaben are commonly used to preserve cosmetic products. They are potentially harmful since studies have shown that these compounds increase a person's risk of developing breast or ovarian cancer.
Lead has been notoriously famous for being harmful to the human body. The possible dangers of lead include brain damage, compromised fertility and muscle or joint pain.
Talc is used as fillers and has anti-caking properties, which allow cosmetics to be applied on smoothly. Studies, however, have also shown talc to be carcinogenic. Another carcinogenic, mineral oil is best left alone.
Phthalates affect our reproductive system while coal derivatives are harmful to our immune and nervous system.​
How much should you spend on mineral makeups?
If money is not an issue, we'd say go all out, but that still wouldn't be practical. It is important to know, however, that high-end brands actually do offer the best quality. Mineral makeups are more expensive that your regular cosmetic products, whether they are drugstore-brands or high-end brands. So if you are sure you are ready to cross over, It is best to be ready to spend a few bucks.
Buy more for the price of one
Mineral makeups are generally available as sets and kits. Buying these types will help you save your time, effort and money. Mineral makeup kits often include primer, concealer, foundation, blush and finishing powder. For a price, some kits also include an eye makeup set. Explore a number of brands and see which products offer the most in one package.
What shades are the mineral makeup available in?
Of course, your purchase must be able to complement your skin tone. After all, the reason you are buying makeup is to improve your appearance and not look like a clown. Try some of the testers on your hand to see how the shades will blend in with your color. General tip is to choose a color that is two shades lighter than your skin.
Will mineral makeup be compatible with your skin type?
Mineral makeups are compatible with most skin types except for very dry skin. Mineral makeups are especially recommended for people with sensitive skin due to their gentle formulations. They do not clog pores and therefore, do not promote further acne formation. Mineral makeups are also best for irritable skin types due to their zinc oxide and titanium dioxide content.
What mode of application do you prefer?
Mineral makeups come in the form of loose powder, mousse, cream and stick. The choice between these forms will actually depend on the type of coverage you would like. Loose powders provide light coverage and are very easy to apply using a brush. They also wear off easily. Mousse, cream and stick forms provide heavier coverage.
How portable do you want your mineral makeup to be?
One common setback about cosmetic products, in general, is that they are bulky. All the more about mineral makeups, especially the ones that come in loose powder form. Loose mineral makeups require thick brushes. Their containers tend to eat more space than you would want. Though don't dismiss mineral makeups just yet. Most kits come in a handy bag in which you can carry them around when you are on the go.
Things to keep in mind about mineral makeup products:
Although mineral makeups are gentle enough that you could sleep in them, you would still want to wash them off of your face. Minerals are water resistant so the old-fashioned way of cleaning your face with soap and water will not work. Oil-based makeup removers will generally work with mineral makeups. The best way to do it is to dampen your cotton ball first with water. This way, you will have reduced the amount of oil the cotton ball will absorb. Next is to apply your oil-based cleanser on your faced with the use of the dampened cotton. Swipe across your face until you have removed as much makeup as you could. Wash your face with warm water before lathering up with your facial soap. Finally, wash off the lather along with any remaining oil and dirt.
Mineral makeups offer some sun protection by virtue of their titanium dioxide and zinc oxide content. This does not mean, however, that your makeup will suffice should you spend hours and hours under the sun. It is still best to wear a more appropriate sunscreen for such occasions.
No matter how good for the skin they are, mineral makeup will not and should not replace your moisturizers, acne cream and anti-aging lotions
Mineral makeups are excellent for your daily wear. With that said, if you are some sort of model or are going for a photoshoot, it is best to skip on your minerals. As we have mentioned, mineral makeups are pearlescent and impart shimmery effects on the skin. This shiny effect will register on the camera once reflected by the flash of any other surrounding lights.
It is always advisable to wear primers to avoid creasing and flaking. This is especially true for loose mineral makeup.
Read the label! Because of the coloring pigments present in cosmetic products, technically all makeups contain minerals. Manufacturers and Companies are taking advantage of this by marketing their products as mineral makeups by conveniently focusing on the mineral component. Study the label and be quick to recognize the likes of the harmful ingredients we have mentioned above.
Unlike traditional makeup, a small amount of mineral makeup goes a long way. Always start the application with a small amount. Apply in sheer layers until you have reached the coverage that is ideal for you.
Do not forget to moisturize your skin before mineral makeup application. It is important to wait for your moisturizer to be completely absorbed by your skin before applying your makeup.
Use the right tools. Kabuki type brushes, or other not-static brushes work best with mineral makeups. For a beautiful coverage, tap some of the mineral makeup onto the lid or cover of your makeup jar then swirl your kabuki brush into the powders, going around the lid at least three times. Tap your kabuki brush to release excess powder. Two taps will do, then brush the mineral makeup onto your face. Keep in mind to brush in a downward direction.
Our Recommendation
We hope that we have somehow helped you narrow down your choices. We here at ParentsNeeds HQ have come up with our own Top 5 Best Mineral Makeup list. It was no easy feat, mind you. It was hard to choose which will come out on top. Find out here why Bare Escentuals Bare Minerals Get Started Complexion Kit took our number one spot.