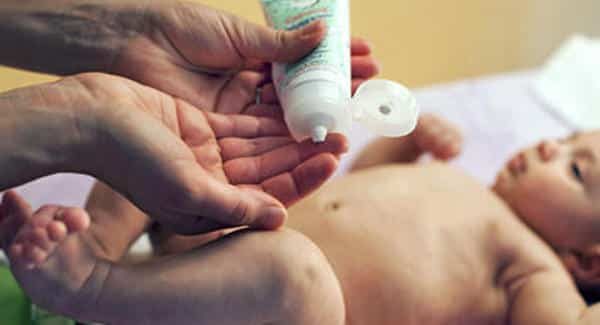 Top 5 Best Diaper Rash Cream | 2020 Reviews
Babies are all born with extremely sensitive skin and one of the most common irritations your baby will end up having is diaper rash. A diaper rash is a reddish irritation on your baby's bum. It can be a mild rash—that is pinkish to reddish puffy bum—to an extensive diaper rash—rash with open wounds and bleeding. It's extremely irritating for your baby and an agitated baby is also unhappy and really hard-to-handle.
A diaper rash is caused by a range of factors like: chemical sensitivity, introduction of new food, long exposure to wet or poopy diapers, yeast infection, antibiotics, and allergic reaction.
Diaper rashes aren't that difficult to handle. Rashes are pretty harmless to your baby when they're mild. You just need the right type of treatment that fits your baby's bottom and the most common cure and prevention for diaper rashes is the use of a diaper rash cream. Diaper rash ointments are made especially to protect your baby's sensitive skin from any outside factors that will cause rashes.
Baby diaper rash creams are easy to find and easy to use. However, with so many rash creams in the market choosing one that would fit your baby's skin and needs are just as confusing as choosing the right type of diaper. When you use a rashes cream, always take note of the following:
Always deal with your baby's bum with clean hands.
Dry pat your baby's bottom before applying on some cream. Wiping might end up scratching your baby's skin even more.
Change your baby's diaper as frequently as possible. Don't allow your child to wear his/her dirty diaper on for too long.
To have an idea of what's the most recommended cream for diaper rashes in the market, we've tested several products and here are some of our most trusted ones out there:
Quick Comparison Table
| Burt's Bees Baby Bee 100% Natural Diaper Rash Ointment | Weleda Calendula Baby Diaper Rash Cream | Triple Paste Medicated Ointment for Diaper Rash | Aquaphor Baby Diaper Rash Cream | A+D Diaper Rash Cream |
| --- | --- | --- | --- | --- |
| | | | | |
| | | | | |
| $$$ | $$$ | $$$ | $$$ | $$$ |
| 3 ounces | 2.9 ounces | 16 ounces | 3.5 ounces | 1.5 ounces |
| | | | | |
Burt's Bees Baby Bee 100% Natural Diaper Rash Ointment
We were skeptical whenever we see the title 100% Natural but not with this product. Upon further research and trials, we, at ParentsNeed HQ were able to really get an idea about this product.
Labeled as a product that says that most—if not all—of their ingredients are made from naturally occurring elements that set off as the best product in the market, we had to try what mothers are really going crazy about what the best diaper rash cream for sensitive skin is.
We would definitely top Burt's Bees Baby Bee Diaper Ointment on top of our list. Firstly, the way it feels. The cream is not too heavy and not too runny either that it smoothed right on our baby's bottom nice and evenly. It has nice faint flowery smell that is really gentle to your nose, not too overpowering. What makes this a great product is really the way it cures rashes. It was so far the best diaper rash treatment since it was the fastest in relieving rashes. It took about less than 24 hours to see improvement on those red flare-ups our babies would often get.
There's practically no reason to hate this thing because it really stands up to its claims. We were able to notice great improvement on skin rashes caused by overexposure to poopy diapers like when babies get diarrhea. And this is all because of the alternative ingredients they used instead of the typical laboratory born chemicals we often smear ourselves with. Burt's Bees Baby Bee Diaper Ointment relies on naturally occurring minerals to enrich baby's tender skin. Instead of using petrolatum, they used beeswax for protection. Instead of using glycerin they replaced it with buttermilk as a moisturizer. And instead of using parthenol, they traded it in for a much safer and more hypoallergenic alternative, Aloe vera, to soothe the skin.
Moreover, they added Shea butter to soften dry skin, lavender essence to add a hint of aroma—it's a really nice and nose tickling scent—jojoba seed oil as an emollient, and also coconut oil to help nurture that sensitive area. They also extracted naturally occurring zinc oxide instead of producing it in a laboratory. With all these natural alternatives, we can't think of anything to top the list of the best natural diaper rash cream than Burt's Bees Baby Bee Diaper Ointment.
Details of the Burt's Bees Baby Bee 100% Natural Diaper Rash Ointment

Dimensions

2.4 x 1.5 x 5 inches

Content

3 ounces

Sizes

One size only

Active Ingredients

Beeswax, Aloe vera, Buttermilk, Lavender, Shea butter

Possible Allergens

Beeswax, Buttermilk, zinc oxide
Weleda Calendula Baby Diaper Rash Cream
Making its way to the second best natural diaper rash cream is Weleda Calendula Baby Diaper Rash Cream. You will never be at a loss with Europe's Number 1 Baby product with our second choice. From hair care to skin care, this brand is the best of what Europe can offer your baby.
If you know where your products are coming from you will be well-off with this product. Weleda Calendula Baby Diaper Rash Cream has raked in the most number of best diaper rash cream reviews on multiple online shops including Amazon.
What's great about this topical rash cream is that is really soothing the moment you apply it on your skin. This is a definite ParentsNeed's recommendation, it is hypoallergenic—the way we always want our baby products to be—and also feels very silky even on your hands. Weleda Calendula takes its name from a plant that their Biodynamic gardens in Germany produces; it is an extract that highly appeals to the rejuvenation of the skin making their product unique and gather so much appeal. They have a reputation that started since 1921 and it surely doesn't disappoint.
Weleda Calendula also uses natural alternatives instead of the typical pharmaceutical chemicals found in most topical rash creams, in place of petrolatum or petroleum jelly, beeswax is used in order to give your baby's bum a natural skin treatment. They fortified their cream with almond and sesame seed oils making it skin-friendly and completely enriched with vitamins and minerals. As one of the best diaper rash creams, Weleda Calendula redefines baby care in all aspects of skin care especially when dealing with diaper rashes even in adults making it one of the best rash cream for adults.
With a concoction that's been well-loved, widely bought and wholly undefeated for almost a century, it's a mommy favorite because it is formulated with non-nano pharmaceutical-grade zinc oxide or in other words, none of their active ingredients were created in a laboratory to ensure the best and healthiest way to take care of your darling's butt, no matter how delicate it may be. On the plus side, it is also certified and recommended by a green group in Europe called NaTURE because it is a love child between the collaboration of dermatologists and midwives in Europe. Their carefully handpicked flora made s deserving second best natural diaper rash cream of all time.
Details of the Weleda Calendula Baby Diaper Rash Cream

Dimensions

1.5 x 2 x 5.5 inches

Content

2.9 ounces

Sizes

One size only

Active Ingredients

Zinc oxide, salicylate, beeswax, calendula extract

Possible Allergens

Beeswax, buttermilk, almond oil
Triple Paste Medicated Ointment for Diaper Rash
Positive results or you get your money back guaranteed! Triple Paste Diaper Rash Cream is a sure ball when it comes to caring for your baby bottom's present and future thus ranking as the third best diaper rash cream in our list.
This product is highly recommended getting a thumbs up from 9 out of 10 mothers who use their products and much to say ParentsNeed HQ is one of them. You can easily set your eyes on this rash cream that is easy to apply and effective on any of the different levels of rashes your baby can have.
Triple Paste Diaper Cream for Diaper Rash is one of the most bought diaper rash creams in the market hailing about their moisture lock-in capability. Their product helps keep your baby's bum hydrated and prevent rashes from forming even when pulling an all-nighter. It helps keep your baby protected from over exposure to wet diapers (although we don't recommend you to keep your baby's dirty diaper on for too long).
The good thing about this cream is that is highly recommended for irritations caused by allergic reactions but not with diaper rash yeast infection. Triple Paste Diaper Cream is not ideal for diaper rash yeast infection because it has cornstarch in it and yeast loves to feed on cornstarch. But for any other rash caused by allergies or extensive wetness and/or dry skin then this product is just for you. This product is fragrance free but unlike those without scents that produce this awkward smell after using it, Triple Paste Rash Ointment doesn't do just that. It helps keep mucky overexposed odor away and it gives your baby's bum that nice and soft feeling even when you're about to wash their butt when you change their diaper.
Its cream is just the perfect thickness; it's not too runny or too thick. It is easy to apply and easy to wipe off. It's the typical go-to cream for any mother because it is a quick and easy fix to appearing rashes. If your baby has bleeding due to the rashes try taking the diaper off, wash your baby's bum and after patting it dry apply a liberal amount of this cream. Leave the cream on without a diaper for an hour or two and you can immediately see the results.
Details of the Triple Paste Medicated Ointment for Diaper Rash

Dimensions

3.6 x 3.6 x 3.6 inches

Content

16 ounces

Sizes

2 ounce tube, 8 ounce jar, 16 ounce jar

Active Ingredients

Zinc oxide, white petrolatum, glycerin

Possible Allergens

Cornstarch, beeswax, oats
Aquaphor Baby Diaper Rash Cream
'Loved by Moms! Recommended by Pediatricians!' This is exactly the kind of slogan Aquaphor Baby Diaper Rash Cream lives for making it the fourth in our list of best diaper rash creams. They are one of top selling diaper rash creams and for good reasons too. This best diaper rash treatment's active ingredients are Zinc Oxide and Panthenol on top of Petrolatum. Zinc Oxide is a chemical that prevents, soothes and effectively treats diaper rashes. It also dynamically improves your baby's bottom and helps prevent flare-ups in the future. Panthenol, on the other hand, is a derivative of Vitamin B. It effectively hydrates your baby's skin and keeps it relaxed and relieved for nightlong diaper use. Petrolatum or petroleum jelly is an essential ingredient that helps lock-in the moisture in your baby's skin. It is effective in soothing your babe's sensitive skin and prevents irritation.
It turns out that Aquaphor is a very effective treatment for baby rashes that resulted from diarrhea. Diarrhea is wet and dirty making your baby's delicate skin react badly to it. Because of the inflammation and constant poopy diapers, your baby's skin suffers and this is what this best diaper rash cream for diarrhea kicks in. We, in ParentsNeed HQ, think that tis topical cream is just the right treatment. It has decent amount of glycerin and petrolatum that works together in creating a protective barrier for your baby's bum against diarrhea.
One other love it factor for this cream is the fact that it doesn't have fragrances and preservatives. These two chemicals are active irritants especially on sensitive skin. Aquaphor products restrict the use of fragrances that easily help in causing skin irritation and allergic reactions.
Their products may be one of the best diaper rash creams in the market but the down side of it is the slimy texture of the cream. It may be labeled as a cream but it's too runny and feels too much like goo. When the tube is heated up a bit, it pops when you open it. It's a bit messy to clean up and it makes you wonder if you should wait for it to dry first before putting your baby's diaper on. For those reasons, we're pushing this to the fourth spot on our list.
Details of the Aquaphor Baby Diaper Rash Cream

Dimensions

unspecified

Content

3.5 ounces

Sizes

3 ounce tube, 7 ounce tube and 14 ounce jar

Active Ingredients

Mineral Oil, Ceresin, Glycerin, Polyhydroxystearate, Panthenol, Sebacate, Magnesium Stearate

Possible Allergens

Panthenol, Alcohol, Cornstarch
A+D Diaper Rash Cream
Making it to the fifth spot, A+D Diaper Rash Cream by Bayer and Bayer will not disappoint you either. Amongst an endless list of different brands for diaper rash cream, A+D Diaper Rash Cream is one of the top selling products and for reasons that will make mommies want to shift to this product just as easily.
When it comes to pharmaceuticals, less is more. The lesser chemicals involved the lesser chances for skin irritation and other chemical reactions to occur. And for this reason our product comes at a simple and highly effective method in treating diaper rashes. Diaper rashes are caused by extreme exposure to wetness. Mainly because our children end up sleeping in wet diapers for too long or maybe because poopy diapers caused by diarrhea can be a nasty and painful experience for our babies. That is why this product allows your baby's skin to heal itself naturally.
Chemicals aid in healing and prevention but it also compromises our baby's skin component making it either dried up or more prone to diaper rash in the future. A+D Diaper rash cream is one of the best ways to treat flare-ups caused by oversensitivity to new food or even the introduction of new diaper brands. Diaper rashes are common issues that parents face all the time and in order to quickly help the healing of these rashes is with the help of this rash cream.
A+D Diaper Rash Cream is pediatrician recommended mostly because it is enriched with Vitamin A and Vitamin D, two vitamins that aid in keeping a healthy skin. It also helps lock-in moisture in your baby's bottom but not making it too wet. Its viscous cream helps in keeping your baby's bottom safe from further irritation. Its active ingredients are zinc oxide and dimethicone, however, in using this rash cream for babies, you shouldn't apply other chemicals on your baby's bum because of dimethicone. It has the tendency to become an irritant when it mixes with other chemical components.
Another thing to remember in using zinc oxide creams with dimethicone is the proper application, just apply a thin layer to your baby's bum putting in too much will allow a lock-in of more moisture making your baby's bottom look like your grandmother's foot the next time you change diapers.
Details of the A+D Diaper Rash Cream

Dimensions

12.2 x 4.1 x 3.2 inches

Content

1.5 ounces

Sizes

1.5 ounce tube, 4 ounce tube, 16 ounce jar, 1 pound jar, 1.3 pound jar

Active Ingredients

Dimethicone, zinc oxide

Possible Allergens

Cod liver oil, fragrance, zinc oxide
Never settle for less when it comes to your child's health even if it's just referring to keeping your baby's diaper area free from rashes. Diaper Rash Creams are essentials that are must-haves and must-keeps in your darling's travel pack. Be the best mommy who choose the best for your baby.