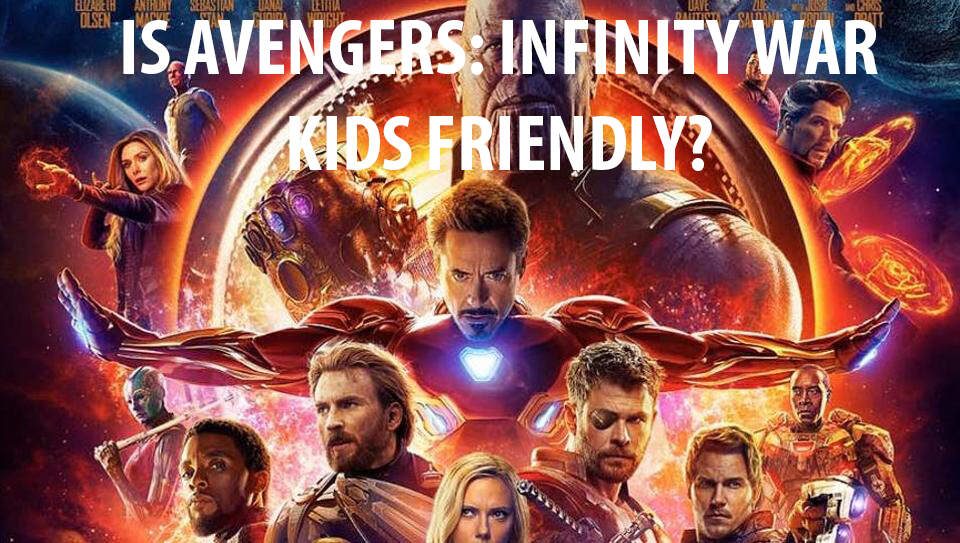 Is Avengers Infinity War safe for kids?
​
​First things first, we at ParentsNeed HQ are NOT going to provide spoilers here, so feel free to read this before watching the movie! We'll hit each Parental Guidance concern category one by one below so as to make sure we cover all bases in answering the question - is Avengers Infinity War safe for kids.
SEX IN AVENGERS INFINITY WAR
There is limited nudity in Avengers: Infinity War. If you consider Drax's character to be nude, then that would be the only nudity in the film. As far as graphic PDA's or intimate scenes, there are a couple of mouth to mouth kisses, but it shouldn't make anyone uncomfortable except maybe 9 year-old's who are going through the "Girls are yucky" phase.
SWEARING IN AVENGERS INFINITY WAR
There's definitely some swearing in Avengers: Infinity War. We don't have an exact blow by blow, but we got the feeling that it's on par with other Marvel films. "S words", and "A words" are used several times, and "Hells" and "Damnits" was used sporadically. We don't recall the "F word" being used so it's well within the bounds of PG13 movie.
If you're the religious type, be warned... there are several blasphemous use of Jesus and God.
VIOLENCE AND GORE IN AVENGERS INFINITY WAR
If your children are on the younger side, we'd definitely recommend caution, especially if they're sensitive, or watching close to bed time. There is a lot of blood, explosion and destruction. There are several fight scenes which are very gory and would definitely make children uncomfortable.
WHAT IS THE AGE LIMIT FOR WATCHING AVENGERS: INFINITY WAR?
It's difficult to make blanket recommendations as children are all different. You know your child best, and so please exercise your judgement. If your child or children are the sensitive type, then I would recommend 11 and up. If your child or children are big fans of the Avengers and they have seen other Marvel Movies like Guardians of the Galaxy, then perhaps you could go as young as 9 years old.
The length of the movie could be an issue for some children as well. Like other Marvel movies, it's an action packed, visually stimulating 2.5 hour long movie. Some children may find all the action fatiguing and so again, use your judgement if you want to bring your younger children. Younger children may also find it hard to follow multiple story lines admidst all the explosions and visual effects.
DOES AVENGERS: INFINITY WAR LIVE UP TO THE HYPE?
If you've enjoyed all the Marvel movies, you will definitely enjoy the Avengers: Infinity War. Marvel did a good job weaving in love, humour and suspense into all the action. If your entire family are fans of the Marvel Universe, then you won't be disappointed watching it as a family activity.
IS IT SAFE TO BRING YOUR KIDS TO AVENGERS: INFINITY WAR?
Kids from grade 6 onwards who are fans of Marvel characters should be able to enjoy the film without getting affected emotionally so as to be too excited to go to sleep, or have nightmares. If your kids are in grades 1-5, we'd say they're too young. Overall, we would say it's not the most kids friendly movie as it's not for all kids. There will be some emotional scenes which may affect more sensitive children. So if your child or children fall under this category, wait till they're older, or watch it with them at home on Amazon Video.
If your kids are disappointed that you decided not to bring them to watch the movie, check out these Avengers fan must-haves to let them down gently.
GUIDE TO AVENGERS: INFINITY WAR FOR PARENTS
The Avengers: Infinity war has all the major characters from every Marvel movie every made. Kids who are familiar with the characters will love that these characters are all together in 1 movie.
Be aware that Marvel President, Kevin Feige, stated that in this movie, certain characters will die so you should definitely take heed of this fact before deciding to bring your child or children if they're not comfortable with death. For parents who haven't watched all of the Marvel Movies, here's a list for you to get all caught up.
Helpful Hint: Best way to get caught up (for free)... Sign up for an Amazon video 30-day Free Trial and binge watch them all. If you don't have time and would like to short cut this list and watch just enough to get up to speed, then read our Marvel Universe cheat sheet.
​
​
The Incredible Hulk (2008)
​
​
Captain America: The First Avenger (2011)
​
​
Thor: The Dark World (2013)
​
​
Captain America: A Winter Soldier (2014)
​
​
Guardians of the Galaxy (2014)
​
​
Avengers: Age of Ultron (2015)
​
​
Captain America: Civil War (2016)
​
​
Guardians of the Galaxy Vol. 2 (2017)
​
​
Spider-Man: Homecoming (2017)