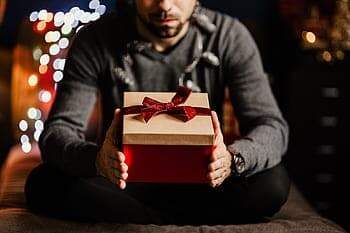 As you finish your holiday shopping, make sure you don't forget about the parents in your life. With a little time and thought, you can find the perfect gift not only for your own parents, but also for any other friends or relatives who are parents. These special people put a lot of effort into making the holidays memorable for their kids. They'll appreciate someone else taking the time to think of them — especially if the gift you choose shows that you truly see them, understand their needs, and value your relationship with them.
Below are just a few thoughtful gift ideas for the busy parents in your life.
Practical Gifts That Pamper
​
​
Image via Flickr by lexly87 aka Duc N. Ly
Although most kids will be disappointed by practical gifts, busy parents will appreciate small gifts that save them a little time, money, or hassle. A portable power bank, for instance, will be appreciated during an emergency or just on a busy day on the go with the kids. Wine, bath bombs, or aromatherapy candles can help parents unwind after a long day, while coffee can give them the energy they need to tackle a new day.
Practical gifts don't have to be super expensive, but remember that parents often forgo spending much money on themselves. This is your chance to pamper them. Buy a pair of high-quality boots for an outdoor enthusiast, or cover the cost of a manicure or massage for a busy mom. Other practical ideas include a leather journal, a Yeti tumbler, Lush bath bombs, and gourmet chocolate.
Thoughtful, Homemade Gifts
A thoughtful homemade gift can be just as treasured as any gift you buy in a store, so if you're on a tight budget, don't be afraid to spend more time than money on your gift. The internet is full of DIY gift ideas you can try, whether you're brand new to crafting or have years of experience. Making a gift yourself also gives you a chance to personalize it. If DIY projects are a foreign language to you, don't worry! Hundreds of Etsy shops offer customizable products, while companies like Shutterfly allow you to easily create photo gifts online.
Experience-Based Gifts
Finally, consider blessing busy parents with an experience-based gift that will pay dividends in the form of treasured memories. Sports fans will love tickets to see their favorite team play, while cinephiles might appreciate a gift card to the local movie theater. Tickets to a concert or play are another great option. You can also look for cooking classes, art classes, or dance classes they might enjoy.
If you choose one of these options, consider taking your gift a step further by arranging for the childcare that parents with young children need for a night out. Offer to babysit, or include some extra money to pay for a babysitter. In fact, offering to babysit for a weekend so they can schedule a romantic getaway might be a better gift than anything else you can dream up.
Whatever you decide to give the busy parents in your life, let it be from the heart. Speak to their unique personality, needs, and interests to show how much you appreciate them.