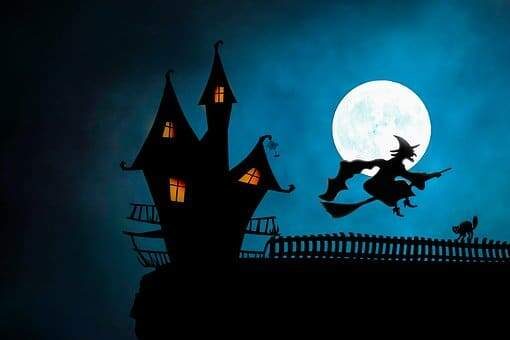 Top 10 must have Halloween decorations

Everyone has a personal taste when it comes to Halloween decorations. From the haunted house vibes to the cute and less scary items; there actually isn't the right or wrong way to feel part of this spooky season. Regardless of your holiday style, there is always a wide range of Halloween decorations available to choose from.

Whether you are looking for the scariest decorations or you just prefer a budget-friendly product, we can help you find it. The wide range of both indoor and outdoor Halloween decorations will in no doubt brighten up the season.

Let's have a look at the top 10 best Halloween décors that will spice up the scary season.
Top 5 Quick Comparison Table
| | Scary Bats Wall Stickers | Jetec 4 Pieces Pillow Case Throw Cushion Cover | Pawliss Halloween Decorations Outdoor | AerWo Halloween Decoration Black Lace Spiderweb Fireplace Mantle |
| --- | --- | --- | --- | --- |
| | | | | |
| | | | | |
| $$$ | $ | $$ | $$ | $ |
| | | | | |
Crazy Bonez Pose-N-Stay Skeleton
A haunted house can never be complete without a bone skeleton, and this is where crazy Bonez Pose-N-Stay Skeleton comes in. The skeleton is about 60 inches tall and the bones are quite realistic. The bones are inclusive of a full rib cage, spine, arms, legs and skull with movable jaw. The skeleton can stand erect against a wall, but it cannot stand on its own unsupported.
For the best experience, consider getting the Crazy Bonez skeleton stand to make your spooky skeleton stand on his own!
HOZZQ DIY Halloween Party Supplies PVC 3D Decorative Scary Bats Wall Decal Wall Sticker
Make your Halloween unique by placing these bloodcurdling 3D bats all over the walls. You don't have to follow a specific style when arranging this Halloween décor. The bats are made with light but sturdy plastic that is matte on one side and shiny on the other. The best part of it is that you can opt for any of these two looks.
The package is also comes with adhesive tags that can stick to the walls with less effort. The bats are available in different sizes. Other spooky halloween shapes are also available!
Jetec 4 Pieces Pillow Case Throw Cushion Cover Cotton Linen Pillow Decorations for Halloween Thanksgiving Christmas Autumn
These cushion covers are designed with beautiful patterns that you can choose from depending on your preference. The covers are delicate and distinct. Whether you are using them as pillowcases or cushion covers, the products will definitely make the room livelier and brighter. You can place them under the Christmas tree, on the bed or sofa. They are available in four pieces, which is enough to decorate your bedroom, living room, garden or any other convenient place.
Pawliss Halloween Decorations Outdoor
There is no denying in the fact that pumpkins are among the best Halloween decorations. What better way to decorate your yard and complement those painstakingly carved jack-o-lanterns than with these fun pumpkin and ghosts Halloween yard décors!
This package of 8 yard decorations consists of one ghost holding pumpkin, one hand bone holding pumpkin and one skeleton and five pumpkin lanterns. All these designs come in amazing colors that make them cute and kid-friendly.
The products are made of corrugated plastic cardboard sheets. They are also easy to set up. You can choose from orange, white and black colors.
AerWo Halloween Decoration Black Lace Spiderweb Fireplace Mantle
The lace fireplace mantel scarf can be used in different areas. This includes the fireplace, table door, and windows. It is made of 100% polyester that is easy to clean, iron and care for. The mantel scarf can create a perfect atmosphere for your Halloween.
Being quite affordable compared to other top 10 best halloween decorations, you won't have to stress about ordering several of these and putting them up all over your house. This will definitely give your house that haunted look both kids and adults will love!
Haunted Candelabra Prop: Fun World
Halloween is the perfect season to send shivers down the spine of your visitors and never apologize for your actions. The Haunted Candelabra Prop is the perfect decoration for your hallowed dining table and will be the perfect mantlepiece when you and your party guests sit down to feast on scary dishes of eyeballs and guts!
The halloween themed candlestick comes with a on off button so you can guide your guests around the table in the dark and then surprise them with your ghastly gourmet by lighting the candlestick at the press of a button.
Haunted Candelabra Prop: Fun World
This Halloween tree is mysterious and interesting. It comes with black glitter coating on the tree trunk and branches and has 8 bats and 24 purple lighting elements.
Putting this tree in your hallway will be sure to add that dark, and grim purple glow to your house. If you live in a small apartment, make EAMBRITE 2FT Black Glitter Spooky Tree Lights your ultimate solution for a memorable Halloween party.
72 inch Cocoon Corpse Decoration
Out of our top 10 best halloween decorations, this hanging corpse is the perfect welcome for your hallowed guests! Why not welcome them by having this rotting corpse greet your friends and trick or treaters when you open your door?
Imagine how your friends will react when they see this creepy figure in front of their face after ringing your door bell!
This wired frame cadaver is wrapped in a fake cobweb can swing freely. It can also be compressed down for storage for your convenience. This way you don't have to worry about having a full sized morgue in your house after halloween is over!
Fun World Super Stretch Spider Web for Halloween Indoor/Outdoor Decoration
This little bag of halloween fun can cover up to 800 square feet of floor area! Why not make your home a veritable spider dungeon by throwing this sticky spiderweb liberally all over your floor. Your guests are sure to feel uneasy as they try to avoid the webbing while coming into your home... worried that they might disturb the web and awaken the giant spider that created this lair! Simply tie it in spots or wrap it around the railing to secure it. Use this decoration in doors or out.
Pink Inc 2 Count Skel-A-Mingo Flamingo
On halloween, those cute lovable pink flamingoes take on a dark and ominous transformation; this spooky black skeleton flamingo is the perfect way to spook your unsuspecting guests who are used to seeing your harmless pink flamingoes. Your yard will look like a veritable pet cemetery with these eery skeletal remains.
The package comes with 2 dead flamingos, one 2 inches tall and 11 inches wide and the other is 15 inches tall and 13 inches. What's more, these stand up sacks of wishbones will even glow in the dark to your spooky!
Conclusion
With our list of top 10 best halloween decorations, your house will give your family and guests an unforgettable Halloween experience. This October, don't shy away from getting any of these interesting and child-friendly Halloween décors.