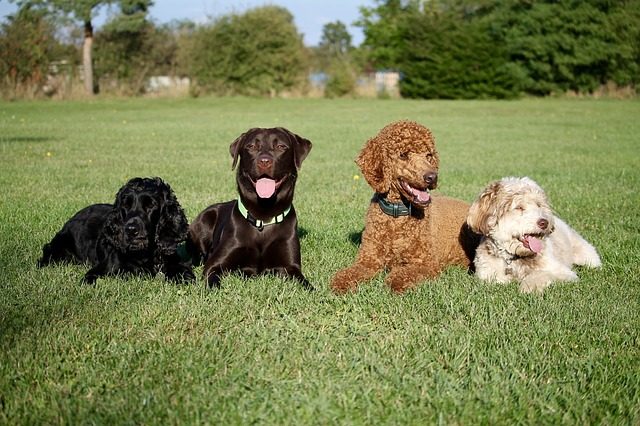 The Best Dog Breeds for Kids
Whenever you open Youtube, one of the featured videos of the week always end up a compilation of kids or babies and their pet dogs. These charming videos either make you swoon or make you really laugh out loud. Babies and dogs are two of the most adorable creatures on earth. And we know that most households with kids end up having or prefer having pets at home alongside their children.
You may not realize it but having a dog for kids in your house for the sake of your children are actually therapeutic for both you and your spouse and most especially for your kids too. Here are some great reasons why you should consider getting a pet, especially dogs good with children, for your home.
Reasons Why You Should Get a Pet
Stress Release on a Leash
Children can be stressed too. It's true that kids deal with stress differently than adults do and it is extremely difficult for kids to cope with stress. If you think that bills, heavy workload and dues, among other things are stressful, kids can get stressed as much as you do. You may not know it but being openly verbal and emotional in front of your kids about things stressing you out can also stress them out as well. It can emotionally become a burden on them seeing you feeling down in the dump because of things that stress you out.
Among other things that kid gets stressed with are busy schedules in school, bullying, a close relative with an illness, death, parent's divorce, a friend moving to another city, and much more.
Having a pet becomes an avenue to release their stress. Pets are great stress relievers since our kids get more active when they have a kid-friendly dog to chase around the house. Kids also talk to pets as if they are imaginary friends and they can verbally express what they feel much better than being able to express it to you as their parent. Think about it, back when you are a teen or a kid, you tell your friends everything but barely let your parents know anything about what you're thinking. As young as your kids may be, they see pets as a very trustworthy friend that they can confide in.​
A Doggy Hug a Day Keeps the Doctor Away
Research has shown that kids have a stronger immune system and lesser tendencies to have allergies and asthma. Multiple types of research have proven so many claims that pets are good for the immune system. Here is a summary of some researches done and proven on kids and pet owners:
Sweden:

Children aged 7 to 13 who were exposed to pets in their first year of life had lesser occurrences of having allergic rhinitis and asthma.

England and Scotland:

A study of 256 primary school kids from three different schools were found to have lesser school absences due to illnesses.

Australia, China, Germany:

This Cross-country large scale researched involving 11,000 kids shows that they visit the doctor 20% less due to illnesses as compared to non-pet owners.
In a sense, pets not only add emotional stability to your children's developments but owning a pet has proven to be a very healthy alternative to keeping your children's immune system function well against common illnesses and allergies.
Speak, Doggy, Speak!​
Did you know that having a pet is more effective than your child having an imaginary friend? Technically, it's equivalent to that. The only difference is that a pet is tangible and your child can imagine your pet anyhow your little one wants your pet to be. And one of the benefits of having a daily companion is an entity that your child can talk to. Children can practice their oral skills with your kid-friendly dog. Apparently, kids become more articulate when having a pet dog than actually having no dog at all.
Confidence Booster​
Pets help your child earn a boost of confidence because they tend to be more articulate and friendlier. Kids who have pets are found to be more sociable and are less likely to be bullied because they know how to interact well with others. Having pets is a good way of preventing your child to be anti-social because even at a young age, kids can already practice being sociable with your pet.
Mind Your Manners, Young Lady!
For sure, you'll be using this less often with your child. Having pets at home reduces the chances of your child talking back. Kids become more respectful because they see the responsibility of owning a kid-friendly dog and yet they also see your child friendly dog as a parent as well whenever you're out at work. Pets provide dual comfort in becoming your child's little one and your child's fill-in parent. Your kids will end up learning more respect towards younger people and older people.
Mine, Mine, Mine!
Pets end up becoming your baby's baby even when you've had your dog long before your child. Your children can get possessive over your kid-friendly dog but in a good sense. This becomes a great platform to involve your kids with household chores. Dogs breeds good for kids need to be bathed, fed, walked, and groomed.
These are only some of the reasons why you should start thinking of buying a pet to grow up with your little one. Pets have more benefits than just something you feed and bathe every now and then. They become an important part of your family and a greater significance in the life of your kids. So, if you're now thinking of getting a child friendly dog breed to be a pet, which one would it be?
Factors you should consider in getting a pet dog
Your Home, Your Life, Your New Dog


You really need to consider your space. Do you have enough space to get a small dog, a big dog or just any for that matter? And will you be able to afford taking care of it in the long run? If you cannot commit to owning a good dog for kids, you won't be able to satisfy the needs of your family along in the mix making it harder for you to balance home and work with an additional member of your family.

Doggy Years versus Man Years


How old is the dog you're getting? Doggy years are completely different from man years. You need to always multiply your dog's age by seven to get the equivalent in man years. So if your dog is 3 years old (times seven), your dog is that of a 21-year-old young adult. So, if you're planning on buying a dog for your kids, get a younger one so that your pet can grow old with your child.

Pet Training


This is one thing that needs your commitment unless you get a pat trainer to do it for you. You need your dog to be disciplined and well-handled rather than it being a wild crazy untamed animal dominating your house like a boss.

Pet Needs


Pets have needs too. In fact, you can say that they become a new baby to the house as well. So, you also need to consider where they'll sleep, where and what they'll eat, and where they'll do their business.

We have checked out so many suggested dog breeds good to kids out there that are suitable for families. But with so many suggestions, we came up with a list of seven child friendly dogs that would suit your household no matter how many kids you have and no matter how young your children are.
Best Dog Breeds for Kids
Golden Retriever
Size:

Large

Personality:

Intelligent, loyal, friendly

Life Expectancy:

10-12 years

Trainability:

Very Eager to Please

Cons:

Can be too hyperactive at time

Barking Level:

Only when necessary

Alternative:

Labrador Retriever
One of the most popular family dog breeds to have at home, the golden retriever is definitely our top pick. This pet is perfect for kids because they are active and very eager to make its owners very happy. It responds well to emotional distress and very alert when there is any form of danger lurking around. The golden retriever is both an indoor dog and an outdoor dog. They are very sporty and very loving as well.
Golden retrievers love to play with you anytime you want and cuddle with your child when he is sick. Since this kid-friendly dog is sporty, your kids will love shooting basketball hoops, playing catch with a frisbee and simply just run around the backyard. Golden retrievers are also good swimmers so whether you have an above ground or in-ground pool, your kids can enjoy practically anything with your golden retriever.
Beagle
Size:

Small

Personality:

Companion-friendly, easygoing, lovable and loving

Life Expectancy:

12-15 years

Trainability:

Great training response

Cons:

Very curious pets can be found snooping around all the time

Barking Level:

Quite Vocal

Alternative:
You'll never ever forget a beagle if you remember one of the most famous cartoons back in the late 1990's, Droopy—or maybe a basset hound, we're not so sure. Anyway, a beagle is featured in so many films because this baby-friendly dog is highly trainable. It is also very loving and affectionate towards its family.
A beagle is a very gentle dog and is a great playmate because it can be active when you're in the mood to play with it and it is also very calm and quiet if you need it to be. A beagle is quite active and needs plenty of time to play around with. This is the perfect dog for kids to play on the trampoline outside and also a great companion when you only need to snuggle in front of the fire place because it's too cold to go outside.
Bulldog
Size:

Medium

Personality:

Calm, courageous, friendly

Life Expectancy:

8-10 years

Trainability:

Great training response

Cons:

Fine hair can be an irritant to kids with allergic rhinitis or asthma

Barking Level:

Quite

Alternative:

Pug
This is a really friendly dog especially with kids and other pets as well. A bulldog is generally seen as a bit of a lazy dog that's because it doesn't have that hyperactive level that requires a lot of your attention. Don't get us wrong though, it loves attention when it gets it.
A bulldog is generally a very nice breed to own. It is extremely friendly and very sociable. The Bulldog is a very popular breed among households. It is a lovable pet that requires very little grooming and is less likely to cause you and your family much trouble.
Boxer
Size:

Medium-sized

Personality:

Active, Bright, Loyal

Life Expectancy:

10-12 years

Trainability:

Great training response

Cons:

very active and are attention seekers

Barking Level:

Only when necessary

Alternative:

Dalmatian
Boxers are very athletic dogs. They need plenty of exercises and are great companions to kids with hyperactivity. They are very loyal breeds too. Boxers are known to be protective over their owners as well but are never known to be aggressive. This would be the best companion to have when camping because they love the outdoors.
Newfoundland
Size:

Extra large

Personality:

loyal, devoted, patient, very sweet

Life Expectancy:

9-10 years

Trainability:

Very eager to please

Cons:

Needs plenty of food

Barking Level:

Only when necessary

Alternative:

St. Bernard, Great Pyrenees
Also known as newfs, these dogs good with babies can grow up to be huge animals but end up being the most gentle of all pets. They are the best pets to cuddle with as newfs are surprisingly very lovable and gentle and extremely helpful. They are very devoted to you and your kids and will always watch out for your kid's safety. If you really want to babyproof your house, it's better to get yourself a newf to keep your toddler from trouble at any cost. Newfs are alert and are very sweet and you'll never have a problem with them being a danger to your child. As a matter of fact, your kids can be the danger to this pet. They may be huge but they don't really need plenty of exercises.
Soft Coated Wheaten Terrier
Size:

Small

Personality:

happy, friendly, devoted

Life Expectancy:

12-14 years

Trainability:

Eager to please

Cons:

Quite stubborn

Barking Level:

Only when necessary

Alternative:
This may be a furry kid-friendly dog but their fur barely shed. This is particularly helpful for kids who are allergic to fur. This is one of the most hypoallergenic dogs to keep in the house, however, they need to be groomed and have a haircut every month. They also need to be combed frequently to prevent matting. This pet is a great indoor companion and they are always happy even into their old age. They are very happy-go-lucky pets which are quite therapeutic for kids with really busy parents.
Bearded Collie
Size:

Medium

Personality:

Smart, charming, friendly

Life Expectancy:

12-14 years

Trainability:

Independent

Cons:

Very active dogs and needs plenty of outdoor activities

Barking Level:

Quite vocal

Alternative:

Old English Sheepdog
Bearded collies are known to be home protector so if a new person comes to your house, they can be loud. These furry dogs aren't the toy dogs you'd expect to cuddle all the time or even sleep with. They are pretty boisterous and very active and really work well with a big family with plenty of kids. Kids will love this pet as a playmate. However, they are also very alert and are keen when in dangerous areas. This is a great kid-friendly dog to be with when going on camping and road trips since its strong instincts will keep your kids out of danger and trouble.
Pets are great addition to your home and they provide comfort, aid, and love when you need it the most. There are plenty of breeds out there but there are certain dogs that work well with kids and some are perfect as house protectors. But these breeds we have on our list are dogs that are particularly loving to kids and surely devoted to you and your entire family.